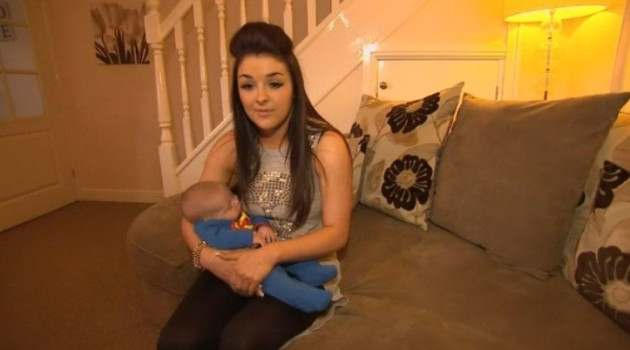 A mother has described how she felt sick when a car thief drove off with her vehicle with her seven-week-old baby still in the back seat.
Louise Waine, 24, was reunited with her son Leo 15 minutes after the thief had driven off in her Subaru Impreza in Orrell, Wigan.
The baby had been placed in the back seat by his father, Thomas Moulsdale, who was standing next to the car chatting to a friend. A thief noticed that he had left the keys in the ignition and jumped in and drove off before Moulsdale knew what was going on.
The baby was eventually found safe and sound in the car after it was abandoned three miles away near a pub in Billinge, Merseyside.
The horrified mother told Sky News: "It made me feel sick. I didn't know what to do.
"I was shocked and I just broke down. I said I don't know where to look.
"Then we got a phone call saying they'd found him at the bottom of Billinge, so we shot down and I grabbed him out of the seat. I just felt ill. I can't believe someone would do that."
Police are appealing for witnesses. The thief is described as a white male in his 20s, wearing a dark woollen hat, dark hooded top and lighter coloured trousers or tracksuit bottoms.
DC Brendan Greally of Wigan CID said: "We can only imagine the distress that the parents of this young baby must have gone through after their son was taken from them in this manner. .
"Merseyside Police was alerted by an anonymous call from a telephone box just a few yards from where the car was left on Main Street. We are very keen to speak to this man, or anyone who saw a man making the call at around 7.45pm to 7.50pm [22 January]."