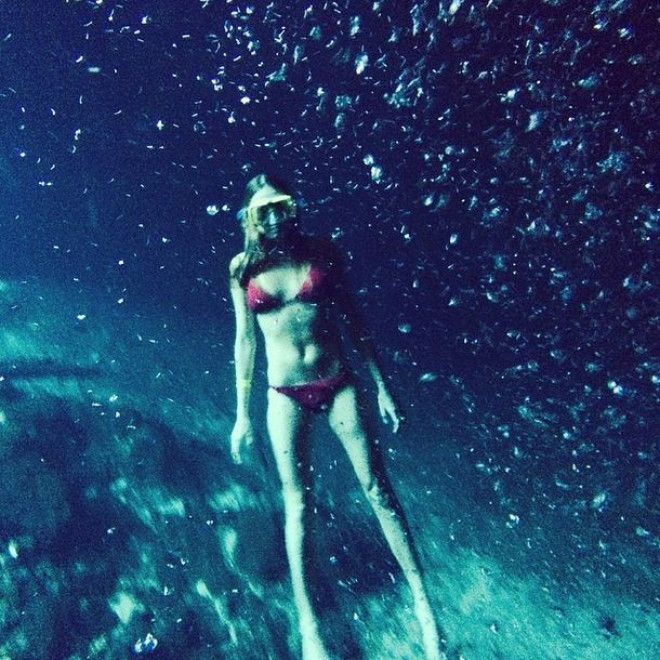 A Topless Cara Delevingne was seen kissing her partner Michelle Rodriguez during their romantic Cancun vacation.
The Victoria's Secret model and her girl-pal of past several months, Rodriguez, were on a week-long spring vacation in Cancun, Mexico.
Things went to a new level when 21-year-old Cara dropped her bikini top and shared a passionate smooch with The Fast and The Furious Star, entertainment news website usmagazine.com reported.
The blonde supermodel wasn't too happy with the intrusion into their romantic escapade and vented her anger on Twitter with a series of tweets calling the paparazzi 'assassins'.
"Please remember that it is so important to not care what other people think unless you truly value there opinion, it only gets in the way," an angry Delevingne tweeted.
In another tweet the supermodel said, "Also you have no idea how valuable privacy is until you loose it!!!"
"I really think that it's disgusting that Paris is the only place where it is illegal for paps to follow you around," Delevingne wrote to her followers.
"It scares me because they act like they're assassins with there telescope lenses, hiding in bushes or whatever they can find. Ha I actually used to feel so sorry for them, how boring it must be to follow people around all the time but some of them actually enjoy it," the model wrote in another tweet.
Check her other tweets here.
Why do celebrities get arrested for attacking paparazzi but the paps dont get arrested for harassing and stalking them ?

— Delivinators (@CaraFact) March 31, 2014
Ha I actually used to feel so sorry for them, how boring it must be to follow people around all the time but some of them actually enjoy it — Cara Delevingne (@Caradelevingne) March 31, 2014
It actually took someone losing there life! Diana, an inspirational woman and then it changed but they still won't change it in London!

— Cara Delevingne (@Caradelevingne) March 31, 2014
"@_hellocara: Cara leading her army of Delevingners into a battle against the paps whilst riding a lion" hahaha I love this — Cara Delevingne (@Caradelevingne) March 31, 2014