Caribbean swimming pigs poisoned by tourists feeding them alcohol
Several famous swimming pigs from Exumas, Bermuda have been found dead in the last week.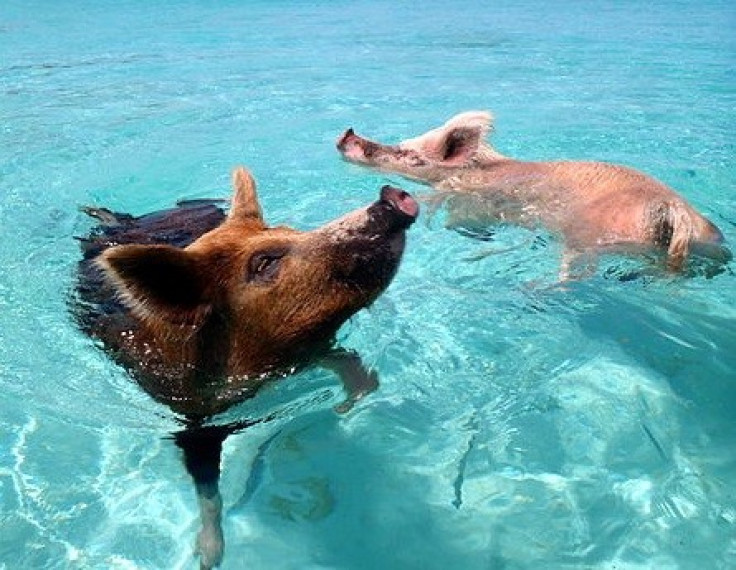 Several famous swimming pigs from Bermuda have been found dead in the last week and locals believe that they have been unintentionally killed by tourists plying them with alcohol.
Visiting the beach pigs on the Exumas islands has been popular with tourists including the rich and famous during the last few years. Many travel to the islands just to swim with them.
But now at least seven of the iconic creatures have been found dead. Initial reports described the deaths as a mystery but now the man who founded the colony has pointed the finger at irresponsible tourists.
Wayde Nixon told The Nassau Guardian: "We have people coming there giving the pigs beer, rum, riding on top of them, all kind of stuff. That never happened [before], but lately [it has] because it's so big, and we are never really there all the time.
We had them pigs there almost 30 years, and never has this happened before, but now we are going to have to regulate it. Right now it's blowing out of proportion with people, anybody bringing food there, anybody doing what they [want to] do.
"Now I will have my son and my partner's son and we will regulate it, and they will be working there, and we will have permission from the government to do it the right way so we won't have this problem anymore."
Minister of Agriculture and Marine Resources Alfred Gray has suggested creating a perimeter around the pigs to protect them from tourists giving them harmful foodstuffs.
He said: "If we have boundary lines, the people will be able to take photographs and see the pigs swim, all of that, but they will not be able to feed them things."
© Copyright IBTimes 2023. All rights reserved.