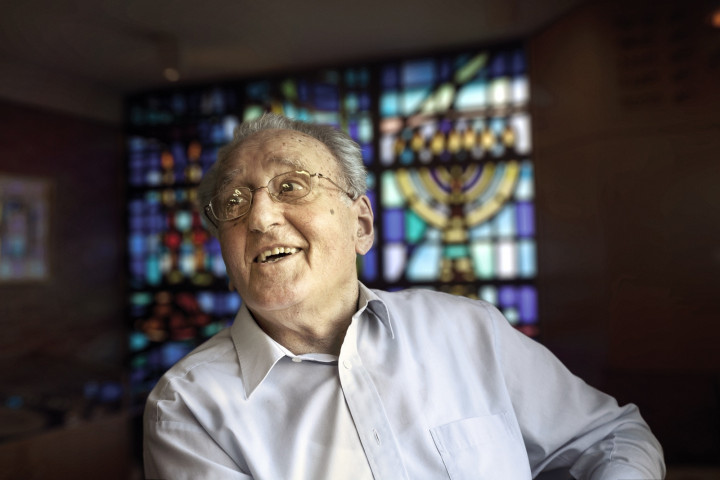 Tens of thousands of Jewish victims of the Nazis sought refuge in Britain in the 1930s and 1940s, but now there are thought to be less than 1,000 still living here. Far fewer concentration camp survivors remain.
With over 10 million over-65s in the UK, the population is aging and pressure is mounting on elderly care. But for those who survived the Holocaust, specialised care is essential – and only a few services offer such support.
Jewish Care, the largest health and social care organisation serving the Jewish community in London and the South East, first opened its doors 23 years ago. Jewish Care's Holocaust Survivors Centre is the only one in Britain.
There are around 600 members at the centre, which provides a daytime programme of social, cultural and therapeutic care six days a week. Aviva Trup, the manager of Jewish Care's Survivor Services, explained that maintaining positive memory is essential.
"At the Holocaust Survivors Centre, we remember positive aspects of the past – singing old Yiddish songs, music and events like hosting Viennese coffee houses. We don't want to go back to tragic memory – and try to avoid going back to that emotional state."
Therapeutic groups and on-to-one support is offered as a safe environment to share stories, if members wish to. It is about companionship and preventing isolation, both key to all elderly care.
"After they meet for 23 years in the same room, talking amongst themselves in a safe environment, that comradery is very powerful and that's what people keeps their identity and sense of belonging," Aviva added.
Jewish culture
As something lost during the Holocaust, maintaining Jewish culture and tradition is a priority.
"Cultural belonging is intrinsic to the work of Jewish Care," Aviva explained. "The one thing survivors say is they feel very Jewish, often because their families were killed for that very reason and they have a sense of duty to keep their family's memory alive."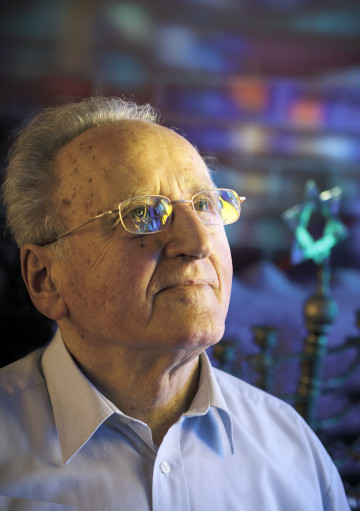 Cultural traditions such as Shabbat, the day of rest, are celebrated. On Fridays, the centre's members sit down to a large meal with candles and prayers.
"If you follow cultural traditions, it creates wellbeing," Aviva said. "If you lose that culture, people become isolated that can lead to depression."
Hundreds of members have received all kinds of support from the centre. Ivor Perl began his relationship with Jewish Care in 1945, when he was liberated from Auschwitz at the age of 13. He was sent to England where the charity's predecessor the Jewish Welfare Board took him in.
Years later, Ivor met his wife Rhoda and they raised four children. But, still burdened with the memories of the Holocaust, Ivor turned to the charity – which provides him with therapeutic services to this day.
When Rhoda developed dementia, the charity helped Ivor support her. She now resides in a Jewish Care residential home in north London.
"When I think back on my 82 years, I reflect on the fact that Jewish Care has been an extension of my family, from my early years as an orphaned teenager and today supporting me and my darling wife Rhoda," Ivor said.
Dementia
There are over 800,000 people living with dementia in the UK, and the condition can have a particularly devastating effect on Holocaust survivors. When an individual loses their short term memory, they are more likely to focus on past traumas.
Carol Hart, head of volunteer and community services at the Association of Jewish Refugees, said a wide range of factors can trigger bad memories, from showering to uniforms.
"If you looking at someone who has memory issues from either dementia or a stroke, its short term memory that is normally affected," she told IBTimes UK.
"They may be able to recall childhood memories. If they are stuck in a loop, they may be repeating something as if they are saying it for the first time. It can be very distressing, as their childhood memories are not necessarily good memories. They need specific additional support."
With survivor care, small changes help prevent individuals from reverting back to traumatic memories. Food is plentiful at the Holocaust Survivors Centre, and there is never a need to queue.
"It's about keeping those with dementia independent and maintaining and optimising functional abilities - keeping psychologically in a positive space," Aviva added.
"We dress informally intentionally avoiding badges or uniforms as this may trigger past memories," she explained. "It seems obvious, but people do it by accident. You have to think sensitively about the terminology we use, like 'it's time for your shower'."
Testimony
For those who lived through the Holocaust, recording their stories to share with their future generations can be a significant part of keeping their memory alive. Of the six million Jews and millions of others murdered by the Nazi regime, each unique story can ensure their experiences are not forgotten.
The Holocaust Survivor Centre provides support, advice and care around people's end-of-life, which includes gathering testimonies for those who want to tell their story.
"It is about enabling people to plan for their end of life in a positive way. All they can remember is about how traumatic it was, with people dying in camps and of starvation," Aviva said.
The centre records life stories and testimonies, which, at the request of clients, are sent to the Imperial War Museum, the Weiner Library or the British Library.
"If you give people dignity and respect, what you get back is tenfold."