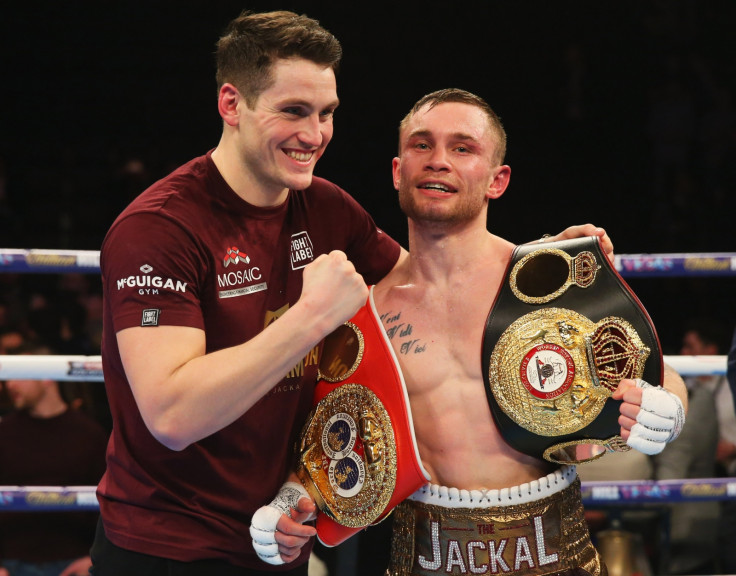 Carl Frampton's WBA (Super) Featherweight title fight against Leo Santa Cruz provides the Northern Irishman with the chance to make himself a star in the US, according to his trainer Shane McGuigan. The unbeaten fighter faces the highly-rated Mexican at the Barclays Centre in New York City on Saturday night (30 July), and McGuigan thinks the bout has come at the perfect time in Frampton's career.
Belfast-born Frampton defeated his long-time rival Scott Quigg in a grudge match earlier this year and although he has since moved up to the featherweight division for another money-spinning fight, Frampton and his trainer remain confident of maintaining their unbeaten record. McGuigan said, too, that the bout ought to make US-based boxing fans more aware of his fighter's talents.
"It's a massive opportunity for Carl," McGuigan told IBTimes UK. "You know, he built himself in Belfast and he established himself in the UK with the Quigg fight. And now we've got to go and do it in the States."
The Frampton/Quigg bout in February failed to capture the public's imagination, despite all of the pre-fight hype and obvious bad blood between the duo. But McGuigan is confident that the fight in New York City will meet the approval of the fight-attending fans.
"We're going to put on an amazing show and I really think Santa Cruz is going to bring out the best in Carl Frampton," McGuigan insisted. "The last fight, Scott Quigg produced a lot of bark but not much bite. He said he was going to come and rip the title away from him and outfight him down the stretch. But he didn't do anything. This is the fight that we were expecting on the last fight."
McGuigan said, too, that although Frampton respects his unbeaten opponent, he is fully prepared for the challenge and is confident of winning the WBA title. "You know what you're getting with Leo Santa Cruz," the trainer explained.
"He punches long, a decent puncher. He's not an amazing puncher – but he throws lots of them. Those guys, sometimes, are worse than the guys who land one big shot, you know. It's going to be a great fight and one that Carl is massively up for and prepared for."