Carl Icahn values Apple at about $1.3tn and asks Tim Cook to accelerate share repurchase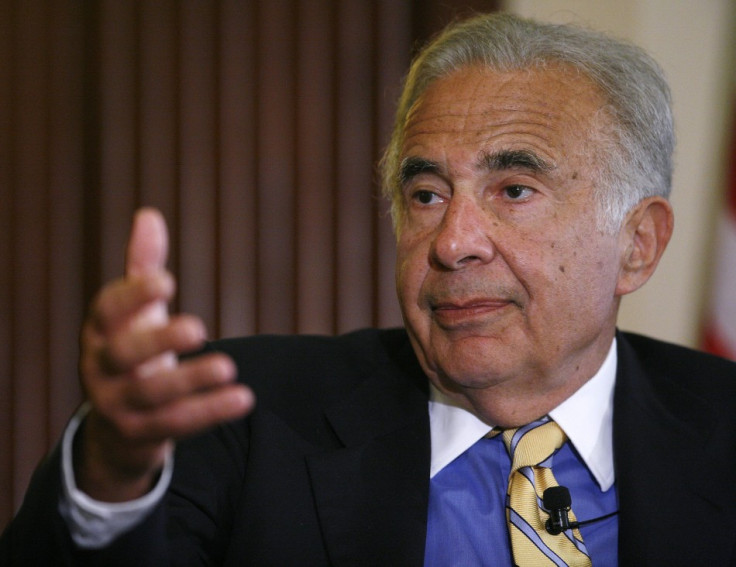 Apple has recently become the world's first company with a market capitalisation of more than $700bn, but billionaire investor Carl Icahn is of the opinion that shares of the iPhone maker are still undervalued.
Icahn, a major shareholder in Apple, said Apple should be valued at about $1.3tn (£852bn, €1.14tn) or $216 per share, far above its record high of $124.92. According to him, the shares should be trading at 20 times earnings per share. He also adds a net cash of $22 per share to reach at the $216 valuation.
In a letter to his Twitter followers, Icahn said Apple shares rose to $122 in a short time-frame, and he believes the shares will rise further.
In October, he asked Apple CEO Tim Cook to increase share repurchases to capitalise on the then low price of shares.
"Since then, we have gained further confidence in our thesis, increasing the forecasted EPS for FY 2015 in our model from $9.60 to $9.70, and now believe the market should value Apple at $216 per share. This is why we continue to own approximately 53 million shares worth $6.5 billion, and why we have not sold a single share," he said.
Speaking about Apples' price/earnings ratio ((P/E), Icahn added the market continues to value the company at a significantly discounted multiple of only 10x, compared to 17x for the S&P 500.
"It seems to us the market is somehow missing a very basic principle of valuation: when a company's future earnings are expected to grow at a much faster rate than that of the S&P 500, the market should value that company at a higher P/E multiple," he noted.
The activist investor also urged Cook to "take advantage of this dramatic market value anomaly and increase the magnitude and rate of share repurchases while this remarkable opportunity still exists."
Apple shares closed 2.3% higher at $124.88 on 11 February, taking its market capitalisation to more than $700bn. Market capitalisation is calculated by multiplying a company's shares outstanding by its stock price.
Apple is now valued at $300bn more than ExxonMobil, the next most valuable US company with a market cap of $382bn. Meanwhile, Google comes in at No. 3 with $365bn followed by Microsoft at $349bn.
Apple's market value has been steadily increasing since its introduction of the popular iPod. The company later introduced its iPhones and iPads that have become icons in the smartphone and tablet industry, generating billions of dollars in sales for the firm.
© Copyright IBTimes 2023. All rights reserved.