Carlo Ancelotti Attacks 'Weak' Real Madrid After 3-1 Loss To Atletico: 'We Didn't Defend Well'
Real Madrid suffered their first loss of the 2023-24 season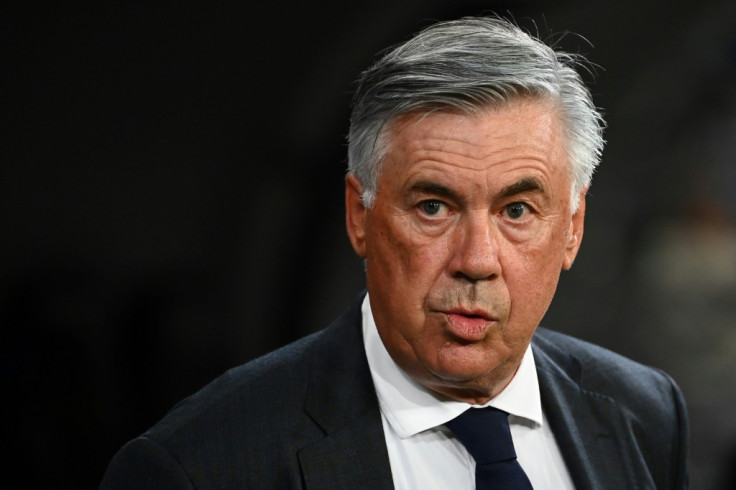 Real Madrid boss Carlo Ancelotti has attacked his players after their loss to Atletico Madrid, saying Los Blancos were "not clinical".
Atletico Madrid forward Alvaro Morata netted a brace as the hosts defeated Real Madrid 3-1 at the Metropolitano Stadium. That also ended Real Madrid's winning streak in the ongoing La Liga season.
Ancelotti: 'We didn't start well'
Early goals from Morata and Antoine Griezmann put Atletico 2-0 up within 18 minutes from the kick-off. For the fourth time this season, Real Madrid have allowed their opponents to take an early lead. Out of those four times, Los Blancos were able to bounce back and win the game on three occasions. However, that changed against their cross-city rivals on Sunday.
"We didn't start well. We didn't defend well, we were soft in our own area and we weren't clinical. After they went 2-0 up, they played the game they wanted to play, defending very well and looking for quick transitions. They were better than us," Ancelotti told reporters.
Speaking about the three goals scored by Atletico, Ancelotti said that all the "three goals were like photocopies". The Real Madrid boss also admitted that his side was not very well positioned and compact enough to defend against any of those goals from their opponents.
Atletico Madrid are solid and especially organised defensively, making it hard even for Real Madrid to find space for scoring. While Ancelotti did not blame any player individually for their poor performance, he just said that Real Madrid's problem was not in the attack but in their defence department.
"I'm not going to talk about individuals. All I'll say is that we didn't defend well," said Ancelotti, before pointing out that the opponents were able to split Los Blancos' centre-backs with ease.
"We tried some long-range shots too. But, I don't think our problem was in attack. Our problem was more in defence than in attack," Ancelotti said further.
Ancelotti: Real Madrid lacked clinical finishing
Following Real Madrid's latest loss, their first of the 2023-24 season, there were questions raised about forward Joselu's absence from the starting XI. To which, Ancelotti replied that he started with a diamond formation, with Luka Modric playing in the centre of midfield and Jude Bellingham and Rodrygo as forwards. Ancelotti didn't have Joselu in his starting XI as he was looking for more control of the ball by including an extra midfielder.
"It wasn't a problem of who played, it was a problem of defensive frailty that we hadn't had in the first few games. We were weak. It's fair to say that. It wasn't a good night," said Ancelotti.
The Real Madrid head coach also stated that his side lacked clinical finishing as well, even though they won the opening five games of La Liga by scoring enough goals.
Carlo Ancelotti backs Luka Modric
Meanwhile, speaking of Modric, who was heavily criticised for his performance against Atletico, Ancelotti refused to put the entire blame on the Croatian midfielder. Ancelotti said: "We don't point the finger at anyone, to point the finger at Modrić is a bit too much, I think. He didn't have a good game, like his team-mates."
Following Sunday's defeat, Real Madrid fell to third place in the La Liga table. They have 15 points from six matches, with five wins and a loss. FC Barcelona are currently at the top of the table with 16 points. The Catalans also nearly lost this weekend to Celta Vigo, but Robert Lewandowski and Joao Cancelo came to their rescue just before the full-time whistle.
By the 76th minute, Barcelona were 2-0 down at Camp Nou on Saturday. In a span of four minutes, Lewandowski struck twice in the 81st and 85th minute to equalise. Four minutes later, Portuguese full-back Cancelo scored a dramatic winner to help Barcelona win 3-2.
© Copyright IBTimes 2023. All rights reserved.