Carpool Karaoke Tony Awards special: James Corden brings in Broadway to croon songs from Hamilton, Rent and Les Miserables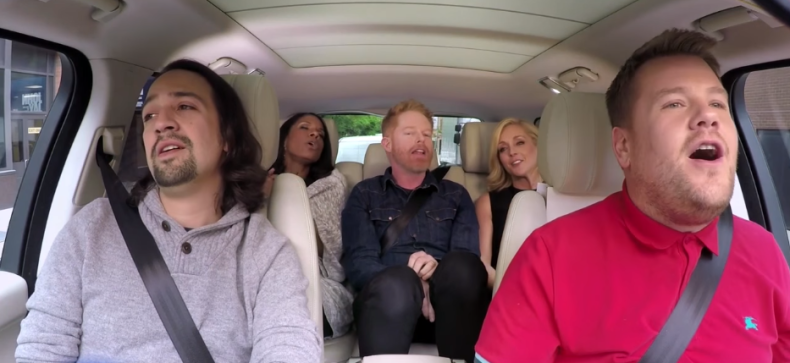 On 12 June, James Corden will host the Tony Awards, which celebrates the best work in American theatre. To prepare for his big night, The Late Late Show host decided to pick up some Broadway stars as he drove through New York in the latest edition of his segment Carpool Karaoke.
In the front seat with Corden, his first guest Lin-Manuel Miranda, the lead of the hit musical Hamilton, joined in singing one of the songs from the play. Soon after, the two made a stop to pick up some more talent in the form of Audra McDonald, Jesse Tyler Ferguson and Jane Krakowski.
With the car now all packed up, the five went on to sing Rent's Seasons Of Love, and Can't Take My Eyes Off You from Jersey Boys. As their ride came to an end, Corden asked for "one song more" before turning up the music of Les Miserables's One Day More.
The British host also asked the stage stars for some hosting tips for the Tonys as they made their way through NY.
Corden recently revealed that his first-ever session of Carpool Karaoke almost did not go as planned. Mariah Carey turned up for her drivebut said she would not be able to sing.
"She came out and said, 'I'm not singing today.' And she went, 'We'll just drive around and have a chat,'" James recalled while on The Howard Stern Show. He tried to explain that it wouldn't fit in with the idea of the segment. "Right, but it's 'Carpool Karaoke.' So without that... And then I thought, I just have to jump into it. Even if this bit is just me singing to Mariah Carey, it's still on the show. It may not be the recurring bit we hope it is, but it's still probably on the show," he said.
When Corden put on the music, Mariah said, "I'm not singing today, I was up all night," but according to the host she did manage to sing along for a while.