An advertising agency has defended using an image of education campaigner Malala Yousafzai being shot in the head by the Talban to promote mattresses.
The poster campaign from multinational advertising company Ogilvy for Indian bedding company Kurl-On caused outrage after one featured the 16-year-old falling onto a mattress after being shot before "bouncing back" to receive an award.
The poster shows her gradually falling onto the bed with an intravenous drip hooked up to her, before making a full recovery by the time she bounces back up off the mattress.
The poster was condemned for using the attempted murder of a school girl by terrorists as a way to promote mattresses. Canadian advertising executive Tom Megginson said the campaign left him "ashamed" to be working in the same industry.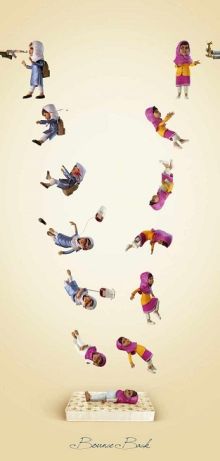 The other two posters in the "bounce back" campaign show Mahatma Gandhi being fired from his role as a barrister before rising up as India's independence leader and Steve Jobs being kicked out of his Apple company before returning with an iPad.
It is not known whether the adverts ran in any Indian media, or as were created merely to create controversy.
Ogilvy said the poster is just another way to honour Malala's achievements. A spokesperson said: "We do not believe that getting shot in the face was the defining moment in this brave young 14-year-old's life - it was her courage and determination to rise from hopeless circumstances.
"We believe that hers is a breathtakingly inspiring story and while all of us do not have the raw courage or moral fibre to do what she did, we can try to pay a tribute to her by any means available to us.
"In this case, the means happened to be an advertising campaign. If we were architects, we would erect a monument in her honour."
The Pakistani teenager was shot in the head by the Taliban when she was 14 for writing a blog which detailed her life under the regime in which she declared she wanted an education.
After making a remarkable recovery from her injuries, she went on to become a spokesperson for education and human rights. She has also received awards for her activism, including a Nobel peace prize nomination.