Princess Eugenie and Jack Brooksbank's wedding this autumn is set to be a happy occasion for most, though it may prove a little awkward for one person in particular.
While Meghan Markle will be Prince Harry's wife by the time Prince Andrew's youngest daughter ties the knot, she might feel a little uncomfortable during the nuptials because of the guest list.
Markle, 36, will no doubt be delighted to return to St George's Chapel, Windsor Castle, for another royal wedding a mere five months after she married Harry at the same venue.
But for those who don't remember, it was in fact Eugenie, 27, who introduced her cousin Harry to her close friend Cressida Bonas, before the couple enjoyed a semi-serious romance that ended in 2014.
There is speculation that Eugenie, who is eighth in line of succession to the British throne, may even ask the 28-year-old aspiring actress to be one of her bridesmaids, which may make things awkward for Harry's bride-to-be.
Bonas, who is often described as an "It girl", was introduced to Harry by Eugenie in 2012, but the pair parted ways amicably two years later since she wanted to pursue a career in the entertainment industry. One of her latest endeavours has been starring in James Arthur's music video for Naked.
The youngest daughter of Lady Mary-Gaye Curzon and Jeffrey Bonas even attended official engagements with Harry during their romance, but finally decided that royal life was not for her. The pair are said to have remained close friends.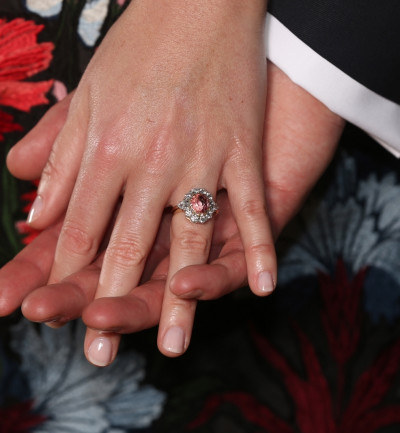 Eugenie is expected to ask elder sister Princess Beatrice to be her maid of honour, while her friends Molly Whitehall and Jules de Boinville are also likely to have roles in the bridal party.
The Duke and Duchess of York announced the happy engagement news via Twitter on Monday (22 January), and are "delighted" that the couple are getting married after seven years of dating.
Former waiter Brooksbank got down on one knee earlier this month in Nicaragua, in what Eugenie described as "the perfect moment".
The couple are believed to have designed the ring together. It may be a nod to Eugenie's mother, Sarah, Duchess of York, since it is strikingly similar in appearance to her ring. While Eugenie's stone is a light pink, her mother's was famously ruby red and surrounded by diamonds when she got engaged to Prince Andrew in 1986.