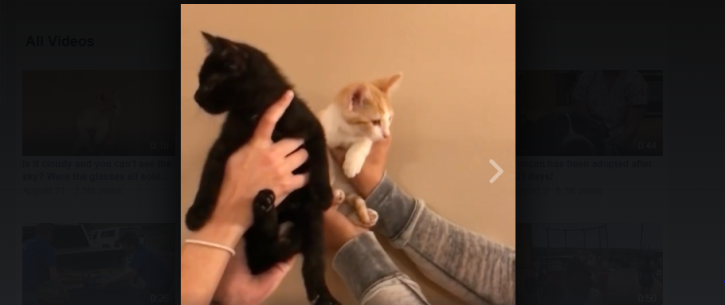 While millions of Americans gazed towards the sky to watch the much-awaited total solar eclipse which occurred on Monday (21 August), two cats almost broke the internet with their "exact simulation of what the eclipse would look like."
The two adorable cats from the Sioux Falls Area Humane Society in Sioux Falls, the largest city in the US state of South Dakota, became world-famous after the video went viral.
The clip featured Toast and Pepper, in which Pepper is slowly moved in front of Toast to 'simulate' how the moon blocked out the sun's rays for a few moments.
Along with the video, the organisation posted a hilarious message, saying, "Is it cloudy and you can't see the sky? Were the glasses all sold out? No fears, we made sure we have an exact simulation of what the eclipse would look like. WARNING! You won't go blind from this eclipse, but you might fall in love."
And the internet did fall in love, and how! By Tuesday morning (22 August), the post had more than 100,000 shares and 35,000 likes on Facebook.
Kori Baade, executive director of the society, said at least 30 news organisations have asked her for permission to use the video.
Toast and Pepper were both adopted soon after the clip went viral, Baade said, with the video obviously playing its part.
"People can see who they are and how they act," Baade explained, as quoted by the Argus Leader website. The video being posted on their Facebook page led to a huge response from people who were interested in adopting a pet, Baade added.
It wasn't just the Sioux Falls Area Humane Society who were caught up with all the excitement around the solar eclipse, though. Thousands of people across the globe also shared their own stunning photographs and videos, experiences and hilarious jokes related to the event.