Police have released shocking CCTV footage of the moment they believe two moped robbers identified a young dad wearing a Rolex they wanted to steal, before he was stabbing to death.
Danny Pearce was knifed to death after leaving Oliver's Jazz Club in Nevada Street, Greenwich, south-east London, on Saturday (15 July) just after midnight.
London's Metropolitan Police (Met) released the footage showing the pair of attackers riding slowly past the 31-year-old, his girlfriend and two others.
The force believes the man riding pillion holds his arm out and points before the moped performs a u-turn just a few minutes before the father-of-one was killed for his £5,000 watch.
A reward of £10,000 offered by the independent charity Crimestoppers for information that leads to the arrest and conviction of those responsible.
Two men, a 21 year-old and a 27 year-old, have been arrested since the investigation was launched. The 21-year-old has been released under investigation while the 27-year-old was bailed until early December.
Police say that two attackers began stabbing Pearce when he refused to hand over his watch while he was shot at, at least four times by the robbers.
His girlfriend witnessed the whole attack watching as Pearce, who had a five-year-old daughter, was pronounced dead at the scene.
The force said that a moped was seen fleeing the scene and they believe the same men were spotted on CCTV at a Texaco garage around six minutes before the attack.
The release of the new images coincides with Danny's family speaking out in public for the first time since the murder about the devastating effects of his loss.
His mother, Jan Pearce, aged 63, said while speaking publicly for the first time: "We need to get these murderers off the street - who knows who will be next and then another family will go through the same devastation as us.
"If you know who did this to my son please, please tell the police. I don't want another mum to go through this agony. I need to know those responsible will be locked up for a very long time."
Detective Inspector (DI) Jo Sidaway, of the Met's Homicide and Major Crime Command, said: "These people had no connection to Danny, but it is clear from the CCTV they point him out as a target as they drive past him, having spotted his valuable Rolex watch.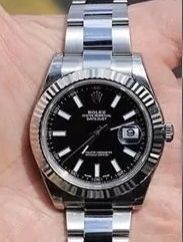 "Moments after he refused to surrender his Rolex, the first suspect produced a large knife and began chasing and stabbing him whilst the second man shot in his direction as Danny ran for his life, having already acted to protect his friends by urging them to get away as fast as possible.
"We know the handgun was discharged at least four times, and while it was the stab wounds that caused Danny's death, a mark found on his back was consistent with a bullet graze.
"Danny sought help at an address in the street but these men showed no mercy, returning again to use the knife against him even as he was collapsed on the steps outside the house.
"It was only when his girlfriend shouted out that she'd give them the watch if they ceased that they left off. Without a hint of remorse they grabbed the Rolex and fled the scene."
The constabulary say the watch stolen was a silver Rolex Datejust 2 2017, and have asked shopkeepers remember seeing an item offered for sale, or if anyone has bought a similar watch from an Internet dealer.
The Met added that the two culprits are connected to two other robberies where victims were targeted for their wristwatches and threatened with weapons days before Pearce was killed.
These attempted robberies, where weapons were not used, happened in Greenwich on 11 July and the other in Southwark on 13 July, the Met said.
To give information and qualify, contact Crimestoppers anonymously on 0800 555 111 or through the online form at www.crimestoppers-uk.org