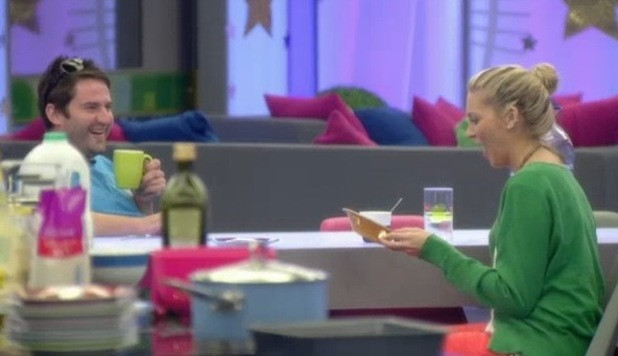 They have only been in the Celebrity Big Brother house a few days but it looks like George Gilbey may have found the woman of his dreams in fellow housemate Stephanie Pratt.
After falling for the Made in Chelsea and The Hills reality TV star, Gilbey made his move with a romantic gesture, signalling there could be a future between the two.
With the help of a paper bowl with the image "I Heart ewww" cut out of the middle, the 30-year-old Gogglebox star made his intentions known.
"I've never had a gift like this before," the impressed blonde beauty exclaimed before giving Gilbey a hug.
But it looks like he will need to go that extra mile if he wants to win her heart.
When James Jordan asked Pratt if she loved Gilbey, she admitted that although she did, it could never be sexual unless he matured.
For now, it seems that Gilbey is content with trying to woo her, even going as far as serenading her with a Barry White song.
"You're my first. You're my last. You're my everything." he said. To which Pratt replied: "Awww, that's so sweet."
It appears Pratt is keeping the amorous Gilbey at bay for now but with a few weeks left in the house, how long will it be before she gives in to temptation?