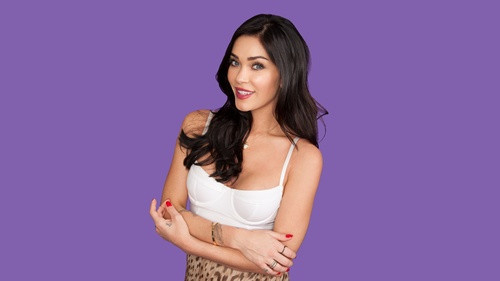 The Big Brother housemates haven't wasted any time getting amorous in the house.
Just 24 hours into the show, N-Dubz singer Dappy was making moves on US star Jasmine Waltz.
She, meanwhile, has the rare accolade of being the first housemate to bare her breasts.
Speaking to Big Brother in the Diary Room, the 26-year-old N-Dubz star said: " you'd better keep me away from the American. She looks like Megan Fox. I'm here for some fun," he added. "I need another week here."
He was later seen sitting close up behind her and repeatedly asked: "Do you like bad boys or good boys? You don't like bad boys like me."
"I like you. You're sweet," said Waltz, trying to hide her apparent shock at his blatant flirtation.
Massaging her shoulders and barely able to take his eyes of the actress, he said: "You've got a tight little waist there."
But it seems that Dappy has a rival for the US star's affections, with Blue singer Lee Ryan displaying an obvious interest in the brunette beauty.
Casey Batchelor pointed out the attraction telling Ryan: "You can see you like her, the way you look at her."
Ryan had earlier come to Waltz's rescue when she was falling around drunk on the floor and baring her breasts.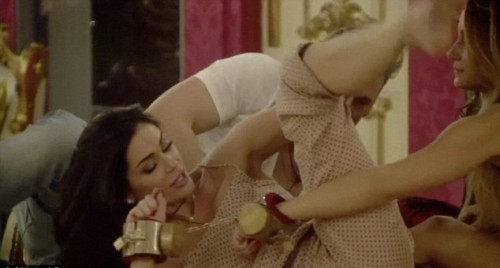 Lying on a bed with Faiers, Batchelor and Waltz he said: "Men up and down the country must hate me right now."
Getting close to the US star he commented: "I've never been touched up live on TV."
Later lying in the sunken bath with Batchelor, it was clear what was on Ryan's mind.
"This would be good to f**k in," he said. "I'm just saying. "Have you ever had sex in one of them baths that are like this?"
In comparison to the younger, less restrained housemates, showbiz veteran Lionel Blair demonstrated the class and sophistication that contributes to making him a TV legend.
Impressing the housemates with his showbiz stories and old world charm, Blair is already a favourite for the final.