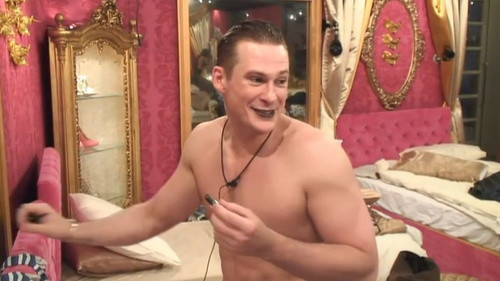 As if it wasn't steamy enough as it is, Big Brother had the housemates dressing up in black latex for an X-rated task.
The house was divided into two teams with Lee Ryan, actress Jasmine Waltz and TOWIE star Sam Faiers and TV veteran Lionel Blair donning the fetish gear, while glamour model Casey Batchelor, Linda Nolan and N-Dubz singer Dappy were among the remaining housemates who dressed in U rated costumes suitable for children.
In the X-rated room, complete with double bed and bar, Jasmine Waltz was the first to put on a provocative pole dancing display and suffered a wardrobe malfunction of sorts, exposing her breasts for the second time on the show.
Ryan initially appeared to put up a protest on being handed a pair of latex briefs saying: "I don't want to wear this," but quickly got into the mood, as he performed a rather risqué pole dance for the rest of the housemates.
Watching Ryan perform, Waltz, who has been caught in a love triangle with the singer and Batchelor, shouted at him: "I love your b*****."
Made In Chelsea's Ollie Locke was thrilled at the task and was heard saying: "This is the best day ever."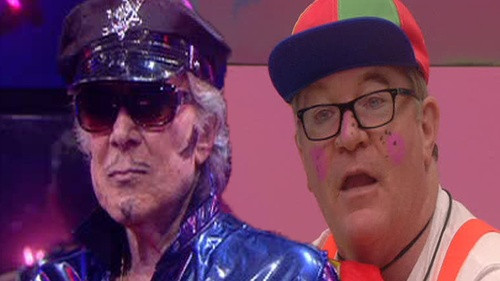 In a camp outfit comprising leather shorts and peaked cap, 82- year-old Lionel Blair certainly appeared to get into the spirit of the task and even joined Apprentice star Luisa in a pole dance, but was later less than happy.
The TV veteran criticised Zissman and Waltz, saying "they went for it as soon as they walked into the room."
Speaking to Big Brother in the Diary Room, he elaborated on his feelings about the task saying: "It's probably the sort of thing they do in their normal lives. I did it. I couldn't just sit there like a grumpy old man."
On the other side of the house, rapper Dappy lead the housemates in a rendition of If You're Happy and You Know It, while Batchelor repeatedly got a pie in the face.
With both groups successfully completing the task, the housemates were rewarded with food and drink for the evening.