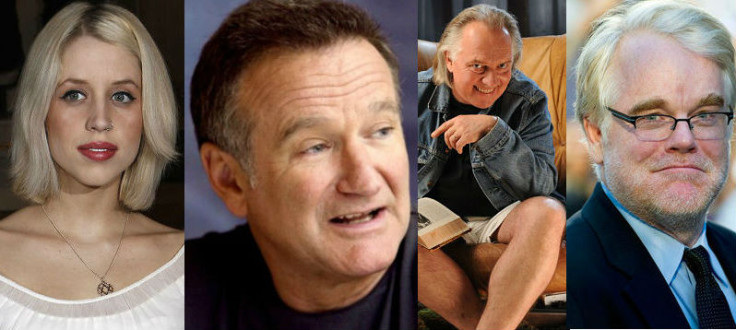 Celebrity deaths were the dominant search terms of the last 12 months with the untimely passing of Robin Williams, Peaches Geldof, Rik Mayall and Philip Seymour Hoffman featuring among top 10 trending searches on Google in 2014.
Google has released its annual look back at the year as seen through the trending topics on its dominant search engine. Formerly known as Zeitgeist, Google's Year in Review is a look back at what people were searching for over the last 12 months.
The top 10 trending searches show that celebrity deaths featured four times with Peaches Geldof, who died at her home in April being the third biggest trending search term of the year, followed by Robin Williams, who died in August listed as the fourth most searched topic of 2014, followed by actor Rik Mayall in fifth, after the Bottom star died in June.
Oscar winning actor Philip Seymour Hoffman was also among the top 10 search terms after the well-loved actor was found dead in his home at the beginning of February.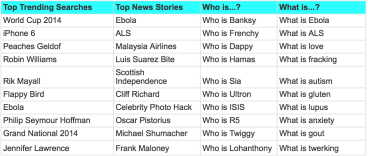 Ebola, iPhones and football
Continuing the rather morbid trend in 2014, the Ebola outbreak in west Africa was also a hugely important search term in 2014, topping the list of top news stories in 2014 as well as topping the "What is..." search term list.
While celebrity deaths had the most entries in the top 10, it was the World Cup in Brazil which topped the list, followed closely by searches for Apple's high profile iPhone 6 smartphones.
Making a surprising entry on the top 10 list is Flappy Bird. Vietnamese game developer Dong Nguyen shocked the world in February when he removed his hit smartphone game from app stores because its huge popularity "ruined his simple life" despite it earning him a reported £30,000 a month.
Other news stories which dominated searches in 2014 include the ALS ice-bucket challenge, the disappearance of Malaysian Airlines flight MH370, Luiz Suarez biting Giorgio Chiellini during the World Cup, and the Scottish independence referendum.
Google UK's Stephen Rosenthal said: "Google's Year in Search gives us the best snapshot of what moved, inspired, shocked and intrigued us in 2014. With so many of us now having multiple computers, phones and tablets immediately to hand, these results are the most accurate and comprehensive collection of what the UK's been talking about this year."