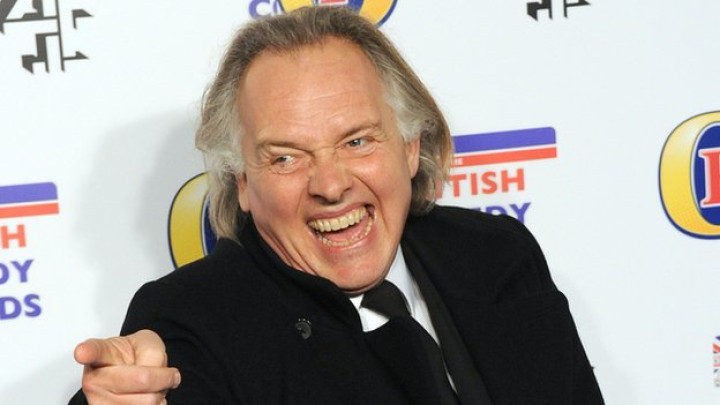 They were tears and laughter as funny man Rik Mayall was laid to rest in a private funeral today.
The popular comic actor died suddenly on Monday June 9 at his home in Barnes, south west London after reportedly suffering an "acute cardiac event." He was 56-years-old.
Mayall's family were joined at the private service at St George's Church in Dittisham, Devon, by his friends from the world of entertainment.
Adrian Edmondson, his best friend and long-term comedy partner, was one of the pall bearers. The comic star was close to tears, his face etched with grief, as he carried the rose-covered wicker coffin into the church.
Among the 140 mourners who gathered to pay their final respects to the much-loved actor were Nigel Planer, Ruby Wax, Jennifer Saunders, Alan Rickman, Ben Elton, Alexei Sayle and Dawn French were among mourners who attended the moving service.
The order of service, featured a colour photograph of Mayall wearing a roll-neck pullover.
Mourners were heard clapping and cheering inside the church during the service, led by Father Will Hazlewood and guests filed out to the Van Morrison hit Brown Eyed Girl.
Paying tribute to Mayall, comedienne Dawn French, said he was "honestly one of the funniest people ever. Breathtakingly funny and beautiful guy - a real tragic loss."
Describing their close relationship Edmondson had earlier paid tribute to his friend saying: "There were times when Rik and I were writing together when we almost died laughing. They were some of the most carefree stupid days I ever had, and I feel privileged to have shared them with him. And now he's died for real. Without me. Selfish b******."
Mayall's widow Barbara asked fans for their 'thoughts and prayers' during the private ceremony.
"We will be burying him at 2pm on Thursday June 19 if you would like to join us in thoughts and prayer at this time. Thank you again for all your love and support to all our family, it brings great strength."
Mayall's best-loved roles included poetry-writing anarchist Rick in The Young Ones alongside comedy partner Adrian Edmondson. Mayall also played conniving Conservative MP Alan B'Stard in The New Statesman and Lord Flashheart in Blackadder.
He also featured on the big screen in the films Drop Dead Fred and Guest House Paradiso.
A memorial service for the star is expected to be held in September.
He leaves behind, wife Barbara and three children, Rosie, 28, Sidney, 26, and Bonnie, 18. His children described him as a 'wonderful, generous, foul-mouthed' husband and father.