Celine Dion's brother has died of cancer just two days after she lost her husband to the disease, a family spokesman has confirmed. Daniel Dion, 59, passed away a day after it was revealed he had just days to live. He was the singer's elder brother and one of 13 siblings.
They're close, she's close with all of her siblings," a source previously told PEOPLE. "It's hard."
"His last days were in the wonderful care of the doctors and personnel at Maison Adhémar-Dion, a palliative care center in Terrebonne Québec," Daniel's obituary read. "For those wishing to send flowers, a donation to that organization would be very much appreciated."
Daniel, who is 59, was in hospital in Celine's native Montreal where his family, including his 88-year-old mother Therese, were gathered by his bedside after being told that he had just hours to live. His sister Claudette told Journal Of Montreal: "He is 59 years old, very young to be the end of life.'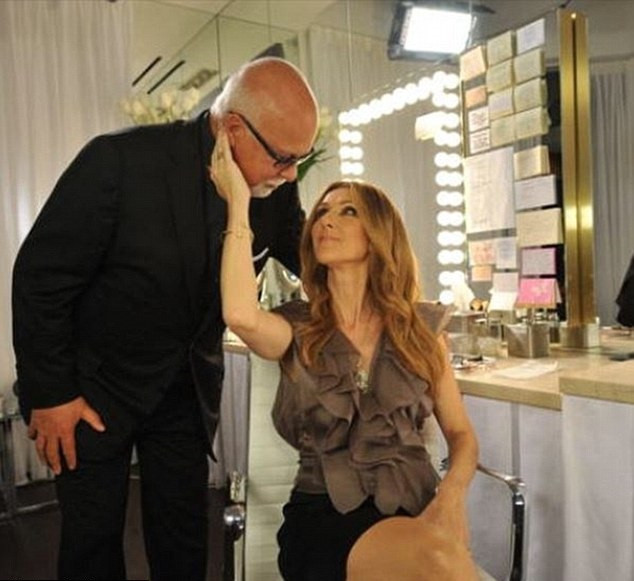 Daniel's memorial service will take place on Saturday 23 January at Salon Charles Rajotte in Repentigny. A religious funeral will also take place at St-Simon-et-Jude, in Charlemagne Québec, where the family was raised Sky News reports.
The My Heart Will Go On singer's rep confirmed the news about her brother's illness to Entertainment Tonight on Friday. It's the latest tragic loss for the singer whose husband and manager Rene Angelil died on Thursday (14 January), the day before his 74th birthday. He had been waging a long battle with throat cancer.
The 73-year-old, who passed away at his suburban Las Vegas home, will be laid to rest on 22 January at the same cathedral where the couple married. The couple tied the knot in a lavish ceremony at Notre Dame Basilica in Montreal in 1994.
According to PEOPLE a source said: "Céline is still in Vegas with her kids making plans for [her husband's] funeral. It's a typical grieving process. There's moments of shed tears, moments of memories and laughter."
Rene Angelil passed away this morning at his home in Las Vegas after a long and courageous battle against cancer. https://t.co/JOeLaOfbSB

— Celine Dion (@celinedion) January 14, 2016
A post on Dion's official website read: "According to his final wishes, his funeral will be held at Notre-Dame Basilica in Montreal, where 21 years ago he chose to marry the one who will remain as the great love of his life, the artist for which he had the most respect, the woman who gave him light and happiness until his very last breath."
Singer Mariah Carey paid tribute to René with a Facebook post on Friday, sharing a black and white photo of Celine and her husband. She wrote: "Dear Celine, I'm heartbroken for you and your family upon hearing the devasting [sic] news about Rene. I know there's nothing I can say to take the pain away but I'm sure the memories will comfort you now and always. My deepest condolences to you and your family. Love always, Mariah."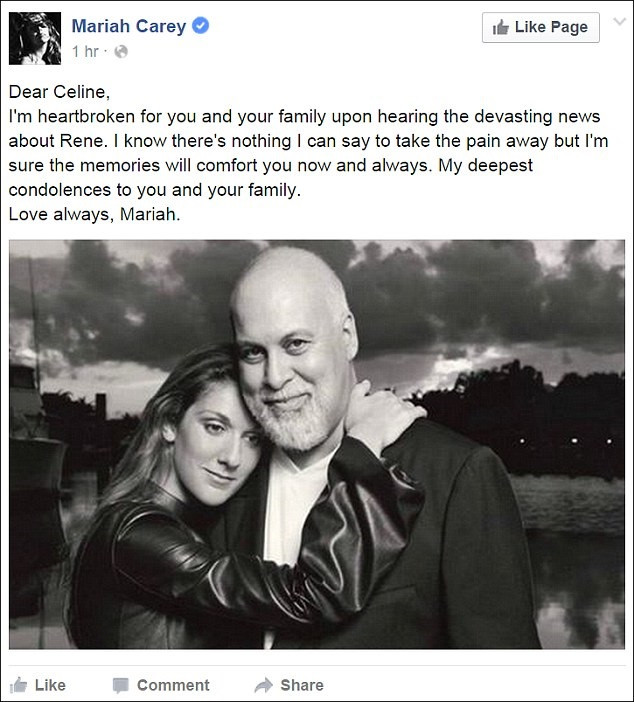 A spokesperson for AEG said in a statement: "We are heartbroken to hear this news, not only because René was a great friend and mentor and an extraordinary partner with us in these shows at Caesars Palace for the last 13 years, but even more because he and Celine were so devoted to each other; their relationship has been a model for us all."
René became Celine's manager when he was 38 and she was just a child of 12 embarking on a career in music. They began dating seven years later. The couple had three children together - Rene-Charles, who was born in 2001 and twins Nelson and Eddy, who were born in 2010.
Angelil stepped down as his wife's manager in 2014. A friend of the couple managed her career however, Rene remained involved in business decisions.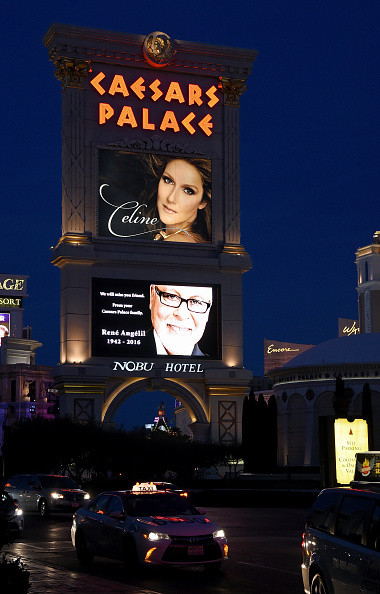 Celine who is in residency at the Colosseum at Caesars Palace cancelled her January 16 and January 17 performances following the death of her husband. The star announced on Facebook on Friday that she will host a celebration of her husband's life at the Las Vegas Colosseum on February 3. She will resume performances on February 23.