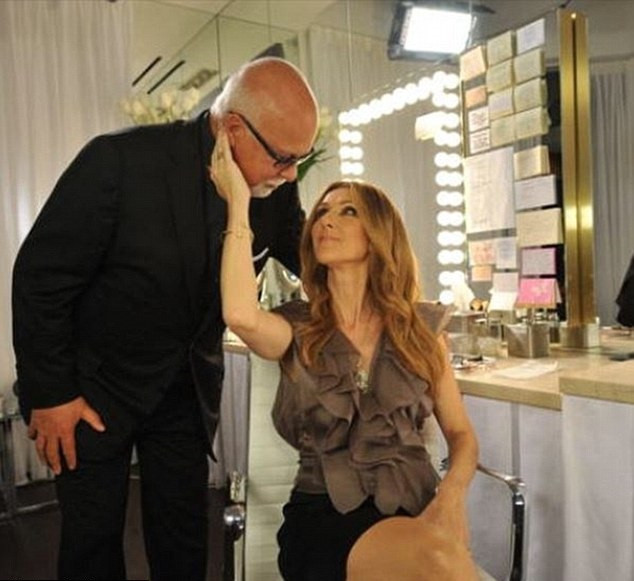 Celine Dion has revealed that her husband René Angélil wants to die in her arms.
The 47-year-old songstress opened up about her music manager's battle with throat cancer as she prepares to resume her lucrative Las Vegas residency at Caesars Palace after taking a year-long hiatus to nurse him.
Speaking to USA Today she said Angelil insisted she returned to the stage: "I didn't want to be here at first, I don't need it. Don't get me wrong, I love singing for people, but I have priorities," Dion, 47, told the paper.
"But René really gave me a gift," she says. "All my grieving, it was during this last year. I think I've got this. For now. When it hits me, it's going to hit me. But my biggest job is to tell my husband, we're fine. I'll take care of our kids. You'll watch us from another spot."
Angelil, 73, was first diagnosed with throat cancer back in 1999. When he was diagnosed with cancer a second time Dion took indefinite leave from performing due to his ill health. "I want to devote every ounce of my strength and energy to my husband's healing, and to do so, it's important for me to dedicate this time to him and to our children," she said at the time.
The My Heart Will Go On hit-maker went on to reveal that although she had to be a rock for her husband, sometimes Angélil "needs something more sensitive than that, more than just positivity. Sometimes he just wants me to enter into a different place with him".
Recalling their candid conversation, she said: "I'll say, 'You're scared? I understand. Talk to me about it.' She continued: "René says to me, 'I want to die in your arms.' OK, fine, I'll be there, you'll die in my arms."
The couple have been married since 1994 and have three sons together, René Charles, 14, and fraternal twins Eddy and Nelson, 4. The singer said she and her husband — "the only boyfriend I've ever had" and "the leader of the band all my life" — have asked doctors how long he has to live, but they don't know.
She also revealed to USA Today: "When you see someone who is fighting so hard, it has a big impact on you." She adds: "You have two choices. You look at your husband who's very sick and you can't help, and it kills you. Or you look at your husband that's sick and you say, 'I got you. I got it. I'm here. It's going to be just fine.
"You can have your shaking knees at the end, but when someone you love falls and needs help, it's not time to cry.
"Afterwards, sure. But not yet."