Central African Republic Celebrates as President Djotodia Quits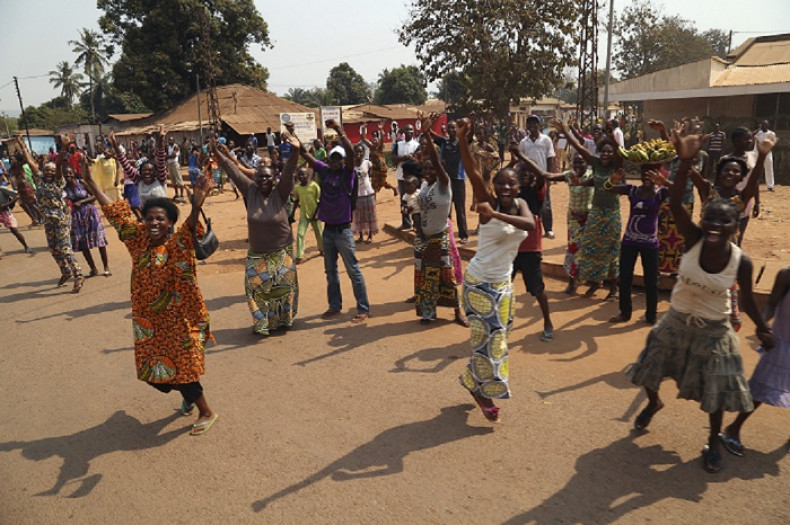 Jubilant crowds took to the streets of Bangui, the capital of Central African Republic, to rejoice after the resignation of interim President Michel Djotodia.
The resignation came after pressure from the governments of neighbouring countries and international criticism of his failure to deal with escalating religious violence in the country between Muslim and Christian militia.
Djotodia had been summoned to a summit in neighbouring Chad, along with the CAR's National Transitional Council, to discuss the country's leadership and sectarian clashes, which had prompted fears of genocide. Prime Minister Nicolas Tiangaye also resigned following the meeting.
After news of his resignation broke, thousands of people took to the streets of Bangui to celebrate, chanting "It's over!". Refugees in a camp next to Bangui airport also celebrated the news. However, there were reports of sporadic gunfire and clashes between rival rebels.
Djotodia, CAR's first Muslim leader, took power last March when a loose rebel alliance known as Seleka seized Bangui by overthrowing former President Francois Bozize, from CAR's majority Christian population. Although Djotodia officially disbanded the Seleka group, it has continued to kill and loot, prompting Christians to form militia groups called anti-Balaka.
At least 1,000 people have died since the clashes broke out in December, and a million people – an estimated 20% of the population – have been forced to flee the violence.
The effect of Djotodia's resignation is not clear. Some say it could ease the religious tensions, while others fear it could unleash a new wave of revenge attacks.
Tthe UN and Amnesty International have warned that the Central African Republic is heading toward a humanitarian disaster, as people fleeing the conflict pack into overcrowded and unsanitary refugee camps.
The African Union now has 4,000 peacekeepers in the country. France has deployed 1,600 troops to try to restore peace.