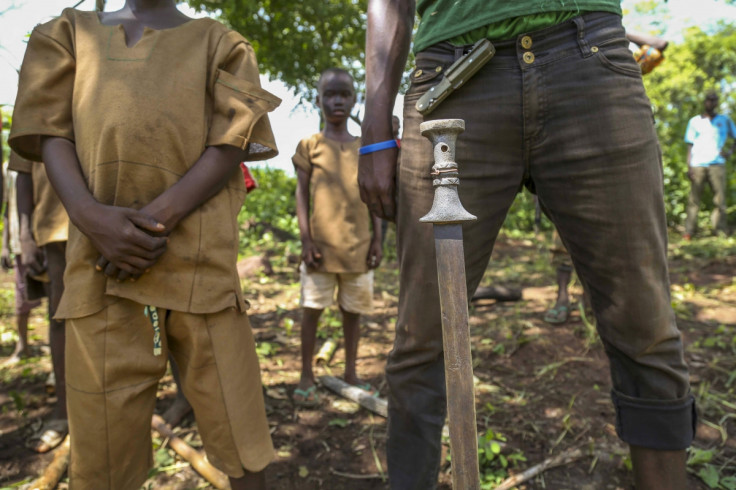 More children in Central African Republic (CAR) are at risk of being recruited as child soldiers by militant groups following a new outbreak of violence in the conflict-ridden nation, a children charity has warned.
CAR descended into chaos in 2013 after former leader Francois Bozize was overthrown during a coup. As a result of the political unrest, Muslim Seleka and Christian anti-Balaka militias engaged in tit-for-tat violence that has killed thousands of people and prompted hundreds of thousands to flee their homes. In the latest episode of violence in September, some 42 people were killed in Bangui in retaliation to the killing of a Muslim motorcycle taxi driver.
Both sides have been accused of recruiting child soldiers, with the UN estimating at least 10,000 children have been used as soldiers since the conflict erupted. A UN-brokered deal earlier in May resulted in the release of hundreds of children used as child soldiers or sex slaves, but NGOs fear many more are still used in fighting.
World Vision UK, an international children charity, warned more international pressure is needed to discourage militant groups from recruiting children. Erica Hall, World Vision's senior child rights policy adviser, went to CAR in September to work on an assessment with the charity's team based in the capital Bangui. However, she and her colleagues had to be evacuated to Congo following the upsurge of violence.
"Before being evacuated, we saw lots of barricades, people were very agitated," she told IBTimes UK. "There were crowds gathering at immigration custom check points and there was definitely a lot of frustration, anger and fear.
"Recruitment of children has been an issue since the outbreak of the conflict. There has been some quite considerable effort by the UN to demobilise children, but of course when you have any upsurge in fighting, it means you need more soldiers."
Hall explained that not only children are forcibly recruited by militant groups, but they also join voluntarily as a result of their frustration and anger at the deteriorating situation in the country. "This is what we call the 'push factor'," she said. "Children are quite desperate and there's a lot of anger that comes out in all ages. Children are more vulnerable to being forcefully recruited, but they also choose to join as a response to the insecurity and they try to support one group or another."
World Vision expressed fears that fighting, contained in Bangui, will affect other areas of the country. "The violence is working its way out in the country and this creates the perfect storm for recruitment," Hall said and added that an immediate end to the conflict is what the charity hopes for. Meanwhile, she said action is needed to avoid the recruitment of child soldiers.
"We need more international pressure on different armed groups to not recruit children, but we also need to address factors that underline children's vulnerability," she said. "We also need to give them a space to do something productive, it makes a difference because this anger builds up and they need an outlet for it and this, unfortunately,can lead to recruitment."