Most Muslims have now been 'cleansed' from the western area of war-torn Central African Republic, according to the UN High Commissioner for Refugees.
Antonio Guterres also said the majority of those Muslim still in western CAR "are under permanent threat" and face a "very high risk of attack."
Addressing a meeting of the 15-nation UN Security Council, Guterres said: "Since early December we have effectively witnessed a 'cleansing' of the majority of the Muslim population in western CAR.
"Tens of thousands of them [Muslims] have left the country, the second refugee outflow of the current crisis, and most of those remaining are under permanent threat.
"Just last week, there were about 15,000 people trapped in 18 locations in western CAR, surrounded by anti-Balaka elements and at very high risk of attack."
Guterres continued by saying that, while international forces are present in some of the sites, "if more security is not made available immediately, many of these civilians risk being killed right before our eyes."
The UN has been urged by CAR's foreign minister Toussaint Kongo-Doudou to approve a UN peacekeeping force to stop the killing.
Kongo-Doudou told the council that his country's survival depended on the urgent deployment of a UN force.
UN peacekeeping chief Herve Ladsous also spoke about the immediate need for deployment of UN troops and "essential civilian capacities".
"The state has virtually no capacity to manage the massive array of threats it is facing," Ladsous said.
"There is no national army and the remnants of the police and gendarmerie lack the basic equipment and means to exercise their duties, while state administration is largely absent."
Ladsous added the UN intervention will cost hundreds of millions of dollars.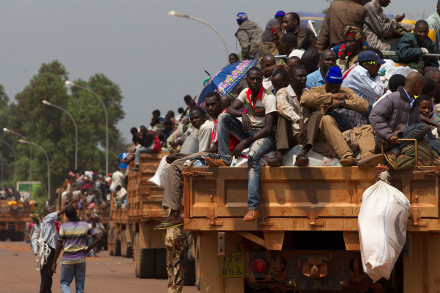 The council is considering a UN proposal for a nearly 12,000-strong peacekeeping force to be operational before summer to stop the "ethnic-religious cleansing."
There are some 6,000 African troops (supplied by MISCA) and 2,000 French troops on CAR's soil trying to end the conflict.
The EU has also pledged to send 1,000 troops.
The conflict, which started in December 2013, has pitted Muslim Seleka forces against Christian Anti-Balaka militias who have engaged in tit-for-tat violence that has resulted in over 2,000 deaths and 650,000 displacements.
The escalating violence prompted UN Secretary-General Ban Ki-moon to call for additional 3,000 troops last month.
Amnesty International accused the peacekeepers of failing to contain the violence, as they did not reply quickly enough in order to protect Muslim from ethnic cleanins.