Central African Republic Conflict: UN Troops Full Deployment 'Necessary to Protect Civilians'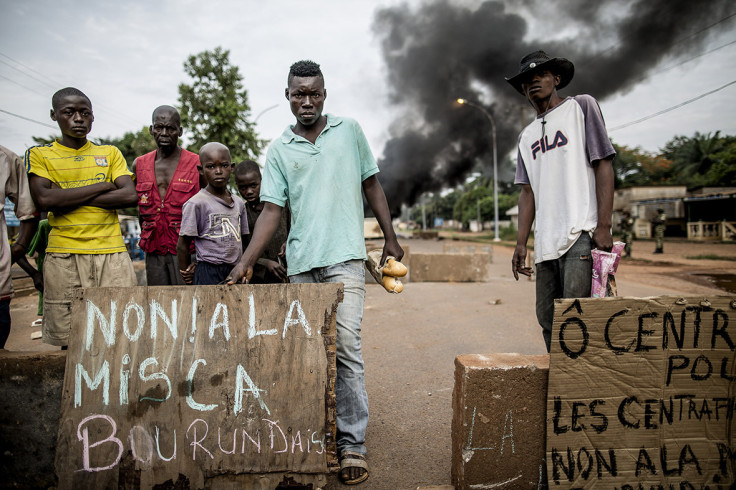 The full deployment of UN troops is needed to curb the widespread violence in the Central African Republic (CAR), Amnesty International has warned.
The rights watchdog said more peacekeepers are needed to protect civilians who are at risk of being abducted and killed by rebels.
CAR's conflict has pitted Muslim Seleka forces against Christian anti-Balaka militias following the overthrow of former president Francois Bozize, a Christian, by Muslim Michel Djotodia in 2013.
The two warring factions have engaged in violence that has resulted in thousands of deaths and hundreds of thousands of displaced people.
Amnesty's comments came as a UN peacekeeping mission is ready to take over the 6,000 African Union (AU) peacekeepers in CAR.
Amnesty expressed its concern as the UN mission will initially deploy only 65% of its troops - 7,600 out of 12,000.
"The switch from AU to UN peacekeepers must be more than a cosmetic change: the swapping green berets for blue helmets. Instead it must serve as a fresh start for the peacekeeping operation in CAR," said Steve Cockburn, Amnesty International's campaigns deputy regional director for West and Central Africa.
"Whilst we welcome the new peacekeeping mission, we are concerned that it will only be able to effectively protect civilians from the threat of physical violence once the full peacekeeping force has been deployed across the country.
"The gap between the number of peacekeepers promised and the number deployed must be urgently filled. Only once the full force is on the ground, undertaking patrols and protecting CAR's civilian population, can MINUSCA [UN Multidimensional Integrated Stabilisation Mission in CAR] properly fulfil its protection mandate."
As Human Rights Watch accused about 20 of AU's peacekeepers of abducting civilians in CAR last June, Amnesty also called for the UN to ensure that peacekeepers suspected of committing human rights violations are not allowed to be part on the mission and will be investigated.
"All alleged incidents involving AU troops must be investigated and the flawed vetting system currently in place must be improved to ensure that there is no place in the UN mission for peacekeepers suspected of committing human rights violations," Cockburn said.
© Copyright IBTimes 2023. All rights reserved.