Central African Republic conflict: Violence on the rise as rival groups kill hostages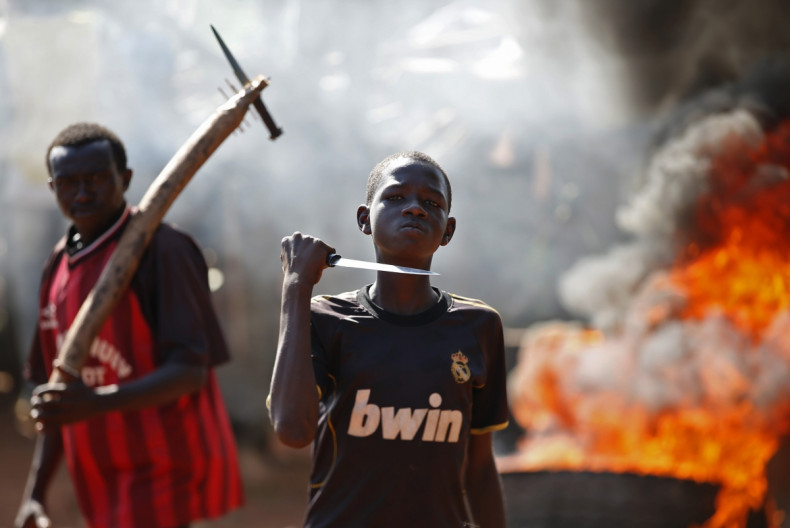 A United Nations (UN) peace-keeper was killed in Central African Republic (CAR) following a clash with Muslim Seleka rebels, amid worsening violence ahead of upcoming elections in the troubled country. The UN has deployed some 12,000 troops and police in its MINUSCA force, and is planning to add about 1,140 more, as well as drones, to beef up security ahead of the vote.
The CAR conflict erupted when by Michel Djotodia, a Muslim, overtook Christian former president and long-time leader Francois Bozize in a coup in 2013. As a result of the political unrest, Muslim "Seleka" and Christian "anti-Balaka" militias engaged in tit-for-tat violence that has killed thousands of people and prompted hundreds of thousands to flee their homes.
The Cameroonian soldier from the MINUSCA force was found dead in Batangafo, north of Bangui, the UN said on Wednesday (11 November) just a day after six hostages were killed by rebel groups.
Three officials from the Seleka alliance were abducted while driving through a neighbourhood controlled by the rival Christian militia on Monday (9 November). Later the same day, three Christians working in the Muslim-majority PK-5 neighbourhood of the capital, Bangui, were also kidnapped in an apparent act of revenge, residents said. Both sets of hostages were killed the next day in tit-for-tat violence.
"Following an outbreak of violence between armed anti-Balaka and ex-Seleka elements at an internally displaced persons camp in Batangafo, ex-Seleka elements confronted MINUSCA troops at a nearby MINUSCA checkpoint," said a statement from UN spokesman Stephane Dujarric.
Elections scheduled for 27 December
The MINUSCA mission is trying to bolster security in the country ahead of presidential and legislative elections that are planned for 27 December.
The vote will be preceded by a referendum on 13 December on a proposed new constitution that would limit future presidents to two five-year terms in office, the National Elections Authority said on national radio on Monday (9 November).
It added a second round of elections could follow on 31 January 2016, if necessary. All dates must be confirmed by a presidential decree.
Led by former colonial power France, the international community, has urged the authorities to organise the referendum and elections this year in an attempt to formally end the chaotic two-year period in the country.
Commentators say the recent surge in violence, however, could derail talks convened by the interim president, Catherine Samba-Panza, in which the Seleka members had been participating. Samba-Panza said the political forum was aimed at "restoring dialogue, discussions and the search for consensus".
In September, the UN condemned the new onslaught, after some 42 people were murdered in retaliation following the decapitation of a Muslim motorcycle taxi driver.