A sudden blast in New York's Central Park that maimed a visiting university student as he walked on a bag of explosives was likely a fireworks experiment gone wrong and not terrorism, city Bomb Squad investigators believe.
Early results of a probe of the explosion that mangled the left leg of 18-year-old Connor Golden on Sunday (3 July) indicate that a black plastic bag that blew up as he stepped on it near the Central Park Zoo was some kind of fireworks produced for the Fourth of July holiday celebration.
Burnt matchsticks nearby indicated someone had earlier tried to light the bag, the New York Daily News reported. When that did not work, the dangerous contents were simply abandoned in the park.
The bag was likely an "explosive experiment" that was probably designed to "make a large noise, maybe make a flash," concocted by someone with a basic understanding of chemistry, said Lieutenant Mark Torre, commanding officer of the New York Police Department's Bomb Squad.
The item was not made of gunpowder, but of rudimentary chemicals, a police source told the Daily News. There is no evidence the incident was related to terrorism, according to investigators. Police don't believe Golden had anything to do with creating the explosives.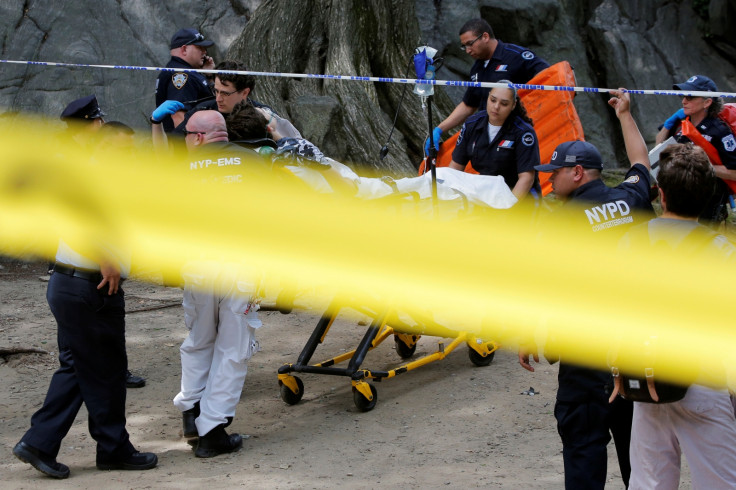 Golden, a Northwestern University student visiting from Virginia, was walking in the park with two friends when he stepped on a rock covering the explosives.
The Sunday morning (3 July) blast on the east side of Central Park could be heard for several blocks and many thought it was part of the official holiday celebration. "His left leg was severely damaged, all bone and muscle," one witness told CBS News.
He underwent surgery on his left leg and may lose his foot, officials said. His two friends were treated for shock after the accident.
Friend Thomas Hinds, 20, told the News that he had just stepped off a large rock in the park with Golden behind him when the blast went off. "I got down the hill and BOOM, my ears were ringing. I felt a wave. A gust hit me in the back," Hinds said.
"I turned around and saw him on the ground with his foot bleeding. It just demolished his foot. His foot was mutilated." Golden groaned but remained conscious, said Hinds.
"His foot was gone," Hinds added. "He's a tough guy. All he said was, 'Get help.'"
"The Bomb Squad is looking into what made it go off, but we may never know," a source told the newspaper. "It was just bad timing that it went off when this guy landed on it."