Four years after it was first shown off as a concept car, the BMW i8 Spyder is tipped to enter production in 2016 – and it will be shown at the CES technology show in Las Vegas in January. The Spyder is set to arrive two years after the hard-top i8 went on sale, and will share the same hybrid petrol/electric powertrain.
Although convertibles are normally launched after their hard-top siblings, the two-year delay for the i8 Spyder is unusual and the result of "major challenges" faced by BMW's engineers. These problems were centred on finding a way to incorporate the regular i8's carbon fibre-reinforced plastic body shell into a car with no roof.
The roof and chassis traditionally give a car its strength, so taking the roof away means adapting the floor, body and chassis to retain strength and, in the case of a sports car like the i8, keeping its sharp handling. Autocar claims a launch is likely within the next 12 months. The publication also claims that BMW boss Harald Krueger has told German media that a production version of the 2012 prototype, pictured above, isn't far off.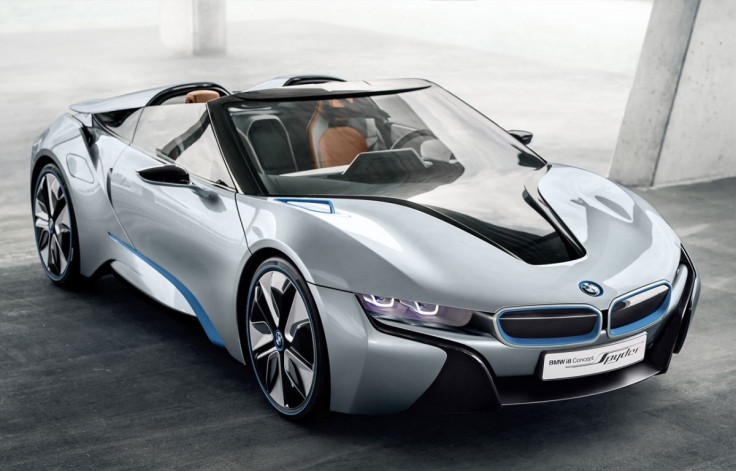 As the CES is a technology show, we can expect BMW to focus on the electric motor and energy recovery system of the i8 Spyder, as previously seen in the regular i8. The i8 combines a 1.5-litre, 230-horsepower petrol engine driving the rear wheels with a 130hp electric motor powering the front, giving a total of 360hp and four-wheel-drive. The i8 can be plugged into a car charger or home three-pin socket to recharge, or it can harvest energy wasted during braking back into the battery.
This setup means the i8 is sportscar fast, with a 0-60mph time of 4.4 seconds and a 155mph top speed, but also returns excellent fuel economy. When IBTimes UK drove the i8 for a weekend, we achieved around 40MPG – double that of some of the i8's rivals.
CES will also feature Faraday Future, the mysterious electric car company which is set to become a rival to Tesla and show off a concept which will be inspired by "an engineering vision for the future of mobility". Coming two years after the i8 went into production, it is likely that we will see more than a missing roof. The i8 Spyder is expected to feature a subtle facelift over the original car, both inside and out, and could be followed by a similarly updated hard-top i8 later in 2016.