A chair that author JK Rowling used to create the magical world of wizards in her Harry Potter books has been put up for auction. The seat will be part of the Heritage Auction's Rare Books event in New York on 6 April.
It was used by Rowling while she wrote the first two Harry Potter books – Harry Potter And The Philosopher's Stone and Harry Potter And The Chamber Of Secrets. It is accompanied with an original Owl Post typed and signed by the author.
The note reads: "Dear new-owner-of-my-chair ~ / I was given four mismatched dining room chairs in 1995 and this was the comfiest one, which is why it ended up stationed permanently in front of my typewriter, supporting me while I typed out 'Harry Potter and the Philosopher's Stone' and 'Harry Potter and the Chamber of Secrets'. / My nostalgic side is quite sad to see it go, but my back isn't. / J. K. Rowling."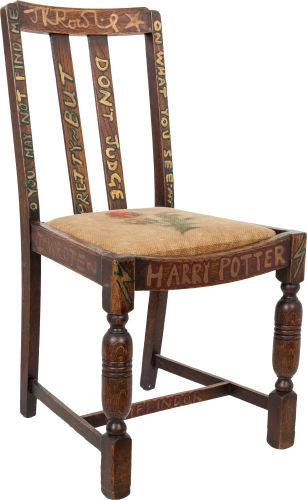 The 50-year-old author donated the oak chair to a small auction in 2002 in aid of the National Society for the Prevention of Cruelty to Children (NSPCC), the auction house said. The chair was painted in gold, rose, and green and signed by Rowling herself.
On the stiles and splats, she wrote: "You may not / find me pretty ~ / but don't judge / on what you see." On the backrest is her signature while the note along the apron of the seat reads: "I wrote / Harry Potter / while sitting / on this chair."
Some of the prominent figures from the Harry Potter series painted on the chair include the house of Gryffindor's emblem, lightning bolts, and Harry's famous scar.
"The international phenomenon that would become, and still is, Harry Potter had its humble beginnings in this modest old chair," James Gannon, director of the auction house, said in a statement. "It's inspiring to imagine the young mother and author settling down at her desk, seated in this chair, typing out the original manuscripts of her first two books."
"Rowling transformed this ordinary piece of furniture into a work of literary art," said Gannon. "It lives now as a powerful, tangible symbol of her determination and incredible imagination," Gannon added.