China's President Xi Jinping issued a clear warning on Saturday, 1 July, saying challenging Chinese sovereignty in Hong Kong crosses a "red line".
The warning from the Chinese premier came as he swore in Carrie Lam as the new leader of Hong Kong on Saturday. The swearing in function was held on the day when the territory marks its 20th anniversary of the city's handover from British to Chinese rule.
Britain had returned Hong Kong to China in 1997.
Lam is the first woman executive of the territory. She was chosen in March by a 1,200-person "election committee" filed with pro-China and pro-establishment loyalists.
The ceremony was followed by a speech by Xi in which he said that Hong Kong is now enjoying more freedom than ever before, but he warned that any kind of attempt to challenge the power of the central government in Hong Kong is "absolutely impermissible", the BBC reported.
"Any efforts to endanger national sovereignty, challenge the authority of the central government and the Hong Kong Basic Law, and use Hong Kong to penetrate and sabotage the mainland, cross the bottom line and are absolutely impermissible," he said while addressing more than 2,000 officials after the swearing in ceremony of Lam.
He also called on young people to have a "full understanding" of China's constitution, which was followed by a shouting by pro-China establishment figures in unison: "Long live China. We support the police's law enforcement actions."
The Chinese premier's speech was followed by Lam's address to her people. The new leader vowed to work towards healing the city state's divided society, which has been separated between pro-Beijing and pro-democracy campaigners.
In her address, Lam also recognised the challenges that Hong Kong is facing but added that the territory's problems cannot be solved overnight and she needed everyone's help.
The swearing in came two days after Xi visited Hong Kong for the first time since he came to power in 2013.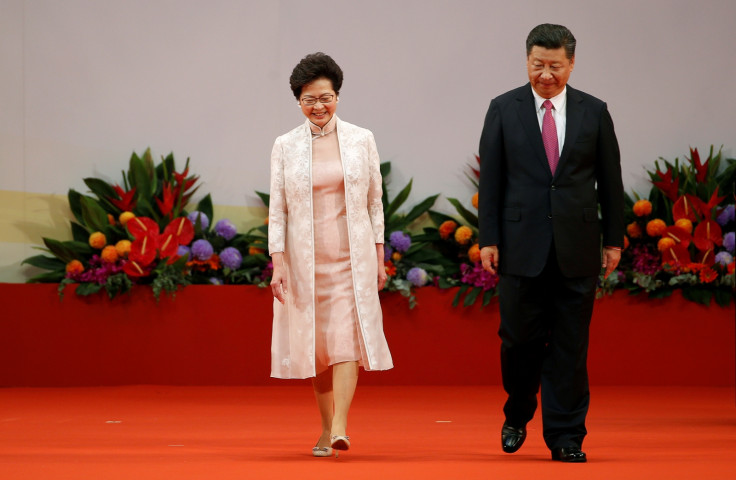 His visit received mixed emotions, ranging from celebrations to mass demonstrations as pro-democracy volunteers feared that it would increase Chinese encroachment on the city's autonomy – guaranteed under a framework known as "one country, two systems".
Meanwhile, it was reported that protest leaders have urged the people of Hong Kong to march for their rights and democracy on Saturday afternoon, by which time Xi would have left the city state.