A number of charities have warned that UK government data does not reflect the rising risk of homelessness across the country due to the "informal" methods used by councils to mask the problem.
According to a study by charities Crisis and the Joseph Rowntree Foundation, there has been a 9% rise in homelessness between 2013 and 2014, equating to 280,000 cases, but office figures show a different picture.
During the same period, government figures show that "accepted homeless" cases have actually fallen by 3%, at around 52,000 last year.
"We see that the number of cases of people facing or at serious risk of homelessness rose sharply last year," said the lead author of the report, Dr Suzanne Fitzpatrick.
"Yet this alarming trend has gone largely unnoticed by politicians or the media".
The charities conduct the independent study annually and analyses survey findings from England's 326 councils. The research was compiled by academics based at Heriot-Watt University, the University of New South Wales and the University of York.
Benefit cuts and lack of housing supply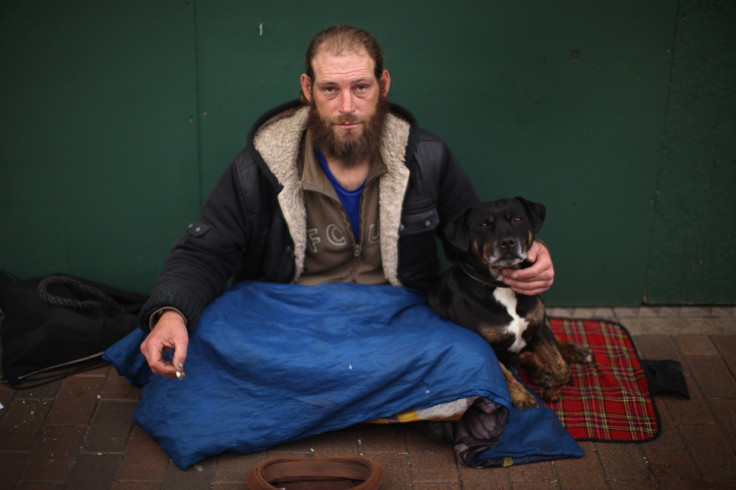 The report blamed benefit cuts and a "woeful lack of affordable housing" which has led to a rise or risk of homelessness and more people moving further away from where they had lived in previous years.
"The true scale of homelessness in England, which headline figures no longer reflect," said Jon Sparkes, CEO of Crisis, in the report.
"Council officials are clear that benefit cuts and sanctions are taking a dreadful toll on people's lives, with rising numbers facing the loss of their home at a time when councils are being forced to cut services. This is a desperate state of affairs."
The government has limited the amount households can receive in benefits to £26,000 a year while also abolishing baby tax credit.
Whitehall has also shifted tax credit thresholds and installed the bedroom tax, officially called the spare room subsidy by the Department for Work and Pensions (DWP), which was introduced in April 2013.
It is a cut in housing benefit for recipients who have spare bedrooms.
Meanwhile, the chronic shortage of supply and increasing demand has meant UK house prices, on average, have rocketed by 56% nationally since 2004. This has had a knock-on effect on the rental market.
"These claims are misleading and the fact is statutory homelessness remains lower than in 27 of the last 30 years," said Kris Hopkins, homelessness minister, in response to the independent study.
"The figures include those who councils have helped to avoid being made homeless, as well as those accepted as homeless - and shows the wide range of options available to help prevent homelessness in the first place."