Solange Knowles has led celebrity tributes to the victims of the Charleston church shooting.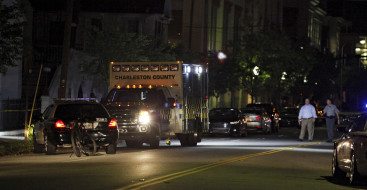 Taking to social media, Beyonce's younger sister revealed her shock and grief following the deaths of nine worshippers at the historically African-American Methodist Episcopal Church.
The singer told her two million Twitter followers that she was "tired" and expressed her belief that the massacre was a hate crime.
Knowles has emerged as an advocate for the civil rights movement in recent years. In 2013, she staged a protest in Brooklyn following George Zimmerman's not-guilty verdict in the Trayvon Martin case.
"Wear your hoodies, bring your signs, bring your voices!" the 27-year-old star wrote on Twitter. "I am sick of racism and want to do something about it."
Music mogul Russell Simmons also reached out to those affected by the tragedy.
Comedian DL Hughley said that his head was bowed in prayer.
Eight victims were killed inside the church and one died in hospital shortly afterwards. South Carolina State senator Clementa Pinckney, who was the youngest African American to be elected to the South Carolina State Legislature, becoming a state representative at the age of 23 in 1996, was reportedly among those killed.
Police are on the hunt for a clean-shaven white male aged about 21, who went on the rampage in the church which boasts one of the largest African-American congregations in the south.
City police chief Gregory Mullen said: "It is unfathomable that somebody in today's society would walk into a church when people are having a prayer meeting and take their lives."