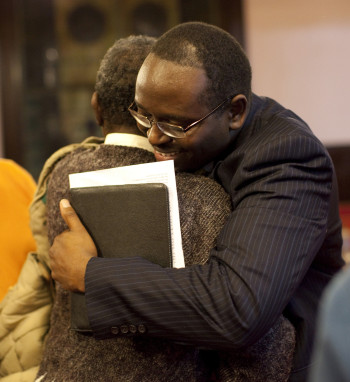 South Carolina State senator Clementa Pickney was allegedly among those killed in a mass shooting at the Emanuel African Methodist Episcopal Church in Charleston on 18 June.
Officials have put the death toll from the shooting at nine. Charleston city police chief Gregory Mullen has said that 8 victims were killed inside the church and one died in hospital shortly afterwards.
Police are now pursuing a white male suspect in his 20s, in connection with what is believed to be a hate crime, the BBC reported.
Pickney reportedly campaigned with Hillary Clinton earlier in the day as she continues her presidential campaign tour in Charleston. He was inside the church at the time of the shooting.
A reverend and pastor at the African Methodist church, Pinckney recently led a prayer vigil for Walter Scott, a black man who was shot and killed by police in the state where racial tensions run high.
The Democratic state senator had also recently campaigned for legislation mandating that police wear body cameras while on the job.
He was the youngest African American to be elected to the South Carolina State Legislature, becoming a state representative at the age of 23 in 1996. He had been a pastor since the age of 18.
Pickney has a wife and two children, according to the Emanuel African Methodist Episcopal Church website.