Charleston shootings: NAACP leader demands Confederate Flag be removed from state capitol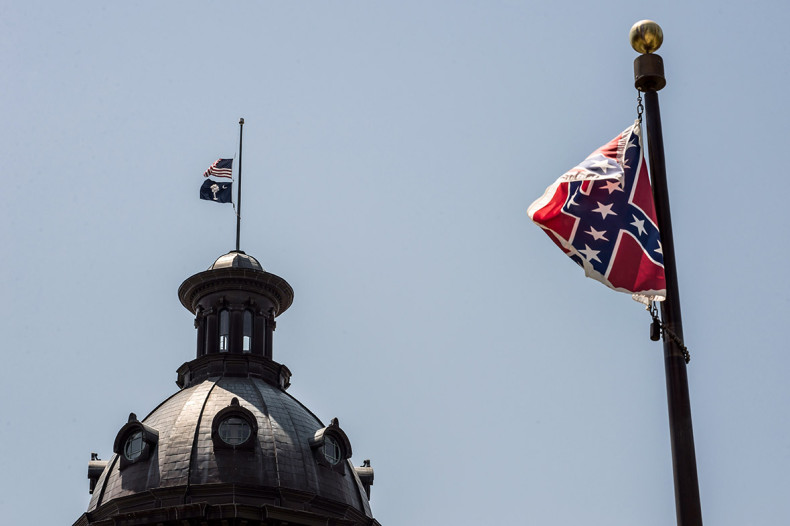 It's long past time that the symbol of the American South's battle to protect slavery — the Confederate flag — be removed from the state capitol of South Carolina, scene of the horrific mass slaying of nine black worshippers in a Charleston church, said the leader of the NAACP.
"The flag has to come down," NAACP President Cornell Brooks told a crowd at a news conference, reports NPR. "This was not merely a mass shooting, not merely a matter of gun violence. This was a racial hate crime, and must be confronted as such."
He added: "We're trying to sow unity — a unity of purpose, a unity of commitment, a unity of resolve — so that we confront the racism in our midst. And that means, certainly symbolically, we cannot have the Confederate flag waving in the state capitol."
An image of the Confederate flag was on the car that police say Dylann Roof, 21, drove to Charleston's historic Emanuel Methodist Episcopal Church on 17 June before opening fire on members gathered at a Bible study meeting. He was captured and arraigned Friday at an emotional court appearance.
President Obama also said on 19 June that Confederate flags should be relegated to museums, Reuters reported.
More than 150 years and still flying in the South
Confederate flags still pepper the South 154 years after the end of the Civil War. The flags are hugely controversial, with backers saying they represent the history of the area, while others see them as standing for support of black enslavement.
"When we see that symbol lifted up as an emblem of hate, as a tool of hate, as an inspiration for hate, as an inspiration for violence — that symbol has to come down, that symbol must be removed from our state capitol," said Brooks.
The NAACP has for years urged tourists and businesses to boycott the state because of the prominent position of the flag at the state capitol. In 2000, the flag was finally removed from the dome of the statehouse to the top of a war memorial to confederate soldiers, which still affords the flag a prominent position in downtown Columbia.
The US Supreme Court has ruled that the state of Texas has the right to ban drivers from using car licence plates with an image of the Confederate flag. Drivers had argued that they had a free-speech right to use the plates.