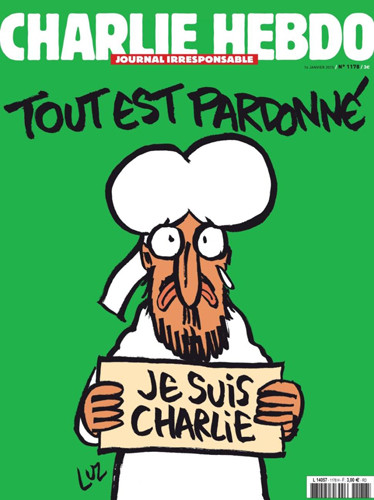 Charlie Hebdo magazine's first edition after the deadly massacre, featuring a weeping Prophet Mohammed holding the iconic "Je Suis Charlie" sign, was already sold out within minutes at several kiosks across France, despite the exceptional three million copy-circulation.
Netizens were posting on Twitter pictures of long queues in front of French kiosks to buy a copy of the satirical magazine, whose print version will be available in six languages including Italian, Turkish and French.
The magazine has decided to publish three million copies – it sells about 60,000 copies usually – to show defiance against the perpetrators of the attack last week which killed 17 people including many of Charlie Hebdo's staff.
The cover also features a tagline in French reading "All is forgiven".
In Lyon and Paris, newsstands have already exposed signs reading "sold out"
Ahead of the release, Charlie Hebdo's surviving cartoonist released a statement explaining why he opted to feature the Prophet Muhammed.
Speaking at a press conference, French cartoonist Renald Luzier, also known as Luz said: