Boy arrested after Boston Holocaust memorial 'smashed with rock'
Officers condemn 'senseless and shameful' vandalism in wake of violence in Charlottesville.
A 17-year-old boy has been arrested on suspicion of vandalising a Holocaust memorial in Boston by smashing glass panels with a rock.
Police were called to reports that a youth was seen throwing an object at the glass towers that form part of the New England Holocaust Memorial.
Upon arrival, police discovered a 17-year-old suspect being detained by two bystanders. According to an eye witnesses, the suspect was allegedly seen throwing what appeared to be a rock at the memorial, shattering its glass panels.
The 17-year-old is expected to be charged with the wilful and malicious destruction of property. The Boston Police Department's Civil Rights Unit is also investigating the incident to determine if additional charges could be brought forward.
Following the arrest, Boston mayor Marty Walsh tweeted: "Today and every day Boston stands up against hate. I'm saddened to see such a despicable action in this great city. Thankful to public and Boston Police for quick arrest of the person responsible for vandalising Holocaust Memorial.
The messages on Twitter were sent just a few hours after the mayor tweeted a video of him signing a book of condolences to the victims of Charlottesville following the car attack on a group of people protesting against a far-right rally attended by neo-Nazis and white nationalists in the Virginia city.
Boston Police Commissioner William Evans said: "I'm grateful for the quick response and the community help which led to the swift arrest of the suspect responsible for the damage done to the Holocaust Memorial.
"Clearly, this type of behaviour will not be tolerated in our city. And, in light of the recent events and unrest in Charlottesville, it's sad to see a young person choose to engage in such senseless and shameful behaviour."
This is the second time the memorial has been the target of vandalism in a matter of months. In June, a 28-year man was arrested on suspicion of smashing the glass panels on one of the six towers, which light up at night.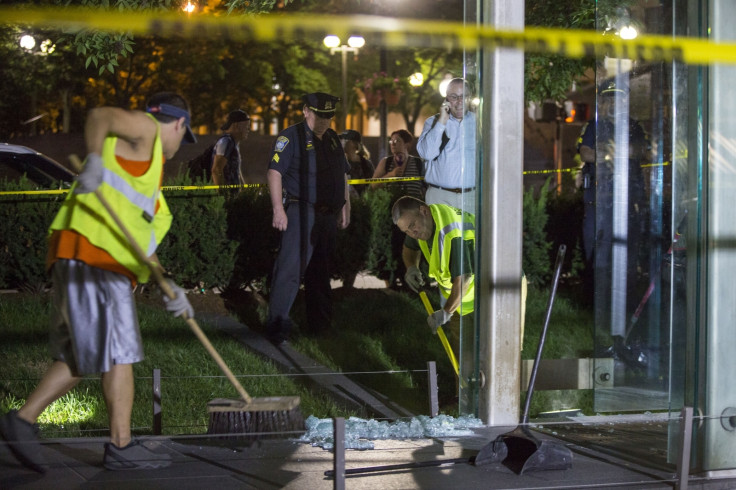 © Copyright IBTimes 2023. All rights reserved.