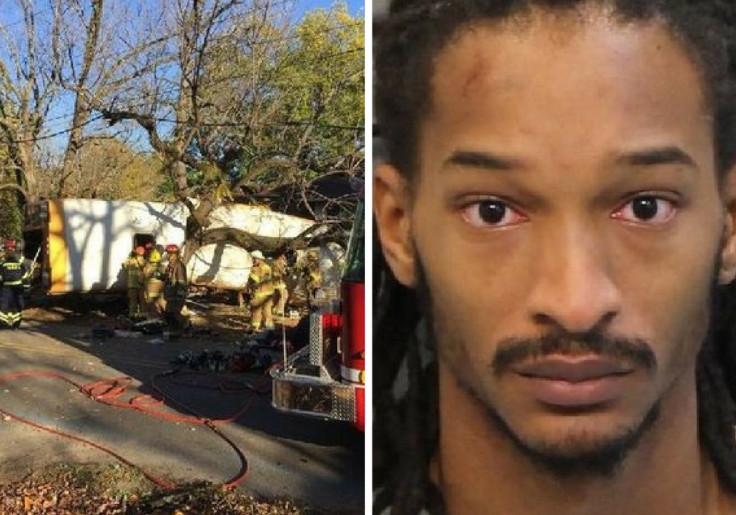 The driver of a school bus which crashed and killed five children in Chattanooga, Tennessee allegedly asked the children on board "are y'all ready to die?" before the collision, according to reports on Wednesday (23 November).
Bus driver Johnthony Walker has been arrested and charged with five counts of vehicular homicide, reckless endangerment and reckless driving. The crash happened on Monday (21 November) whilst the 24-year-old was carrying around 35 pupils, aged between five and 10-years-old, from the Woodmore Elementary School.
It has been reported that 12 injured students are still in hospital, six of whom are in critical condition while six are in a stable condition.
The bus was on a narrow road about a mile from the school and swerved right, hit a driveway and mailbox, headed in the opposite direction and was beginning to overturn before slamming into a telephone pole and a tree, according to an arrest affidavit.
Investigators are still probing the cause of the crash, but believe the vehicle was driving much faster than the 30 mile-per-hour limit.
One grieving mother, Jasmine Mateen, who had three children travelling the vehicle — one of whom, aged six, was killed – told CBS News.
"The mother says that in the moments before the crash, the bus driver said something to the effect of 'Are you all ready to die?' and then seconds later, the bus was on its side and five kids were killed," the report said.
Walker has been held in lieu of a $107,500 (£86,478) bond and school officials say they have not found any record of complaints against Walker, said Melydia Clewell, a spokeswoman for the Hamilton County District Attorney's Office.
One student aboard the bus told the WDEF-TV network that the driver "wasn't paying attention and was going real fast" before the crash.
Gwenevere Cook, Walker's mother, said she spoke with her son after the crash and said: "He said, 'I love you, Mom. I've been in an accident on the bus,' and he said, 'Mom, there are kids dead. I hope it's not my fault,'" she said.
Chattanooga Mayor Andy Berke said: "There are no words to comfort the broken heart of a mother of father. As I pray for families affected by tragedy, I ask you to do the same."
A warrant was issued to remove the bus' black box equipment and review evidence from an on-board video camera.
The National Transportation Safety Board (NTSB) will investigate the crash, while Durham School Services, which operates the route, said it was working with police and school officials during the investigation.