China's Xi Jinping open to Duterte's proposal of turning Panatag Shoal into marine sanctuary
Xi said China and Philippines should see the disputed Scarborough Shoal as a "symbol of cooperation."
Chinese President Xi Jinping is open to Philippine President Rodrigo Duterte's proposal that the disputed Panatag or Scarborough Shoal in the South China Sea be turned into a marine sanctuary.
Duterte reportedly made the proposal to his Chinese counterpart during a bilateral meeting on the sidelines of the recently concluded Asia Pacific Economic Cooperation (Apec) summit in Peru.
Turning the shoal into a sanctuary would mean a ban on all fishing activities inside the reef, which is said to have rich marine resources. However, fishing would still be allowed in the waters around the shoal.
Since China claimed rights over the reef in 2012, Filipino fishermen were barred from fishing in and around the shoal, which led to diplomatic strains between the two nations. The spat grew further when Duterte's predecessor filed a case against China in the international arbitrary court in The Hague, which deemed China's maritime claims illegal in a July ruling.
However, mending ties with the neighbouring country during a recent visit, Duterte ensured fishermen from both countries had uninterrupted access to the waters.
Taking a step further, he now proposed to issue an executive order declaring the disputed zone as a protected sanctuary.
Philippine Presidential Communications Secretary Martin Andanar said on Monday, 21 November, that Xi was receptive to Duterte's proposal and that the government will now move towards materialising the plan.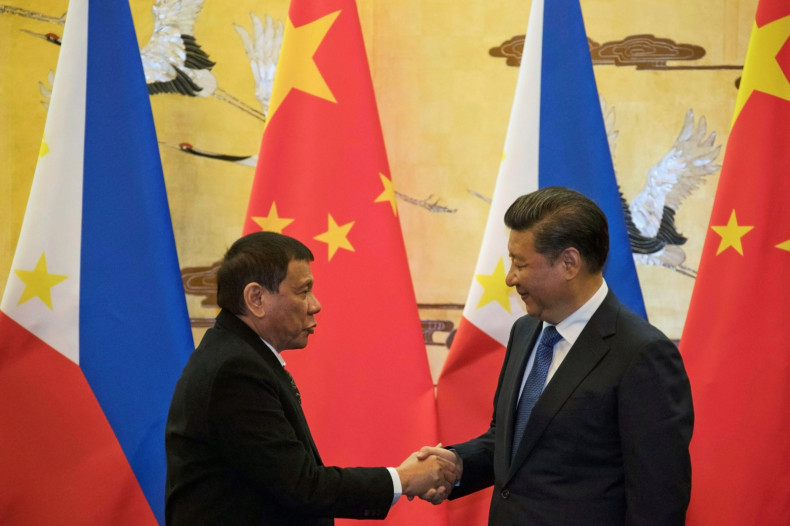 Xi reportedly said that the two countries should now explore maritime cooperation and see the contested area a "symbol of cooperation."
"We will mobilise government forces to promote our agreements, step up guidance to create a favorable environment," Andanar was quoted by the Philippines Star as telling reporters.