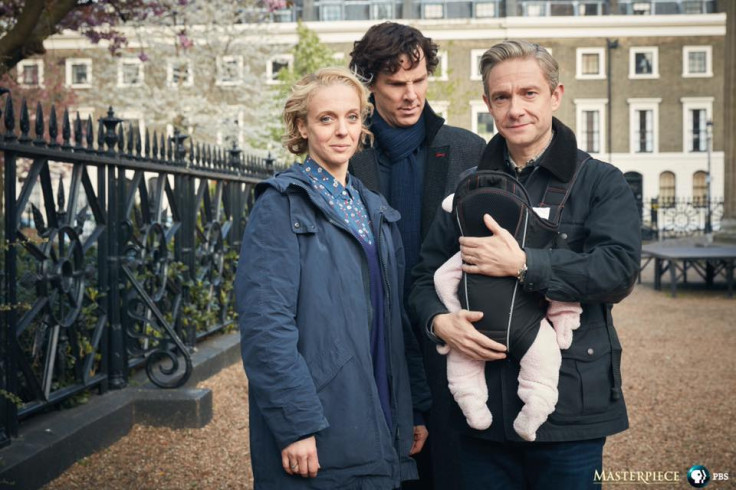 Fans of Sherlock were given a heads-up that John (Martin Freeman) and Mary Watson (Amanda Abbington) would soon be welcoming their baby to the BBC/Masterpiece show in season 4. Now, PBS has released first-look photos showing the couple and their newborn along with a very disgruntled-looking Sherlock Holmes, played by Benedict Cumberbatch.
While we still don't catch a full glimpse of the new addition to the Watson clan, with the photos mostly showing the baby placed in a carrier, the images show that Sherlock is looking less pleased at the addition.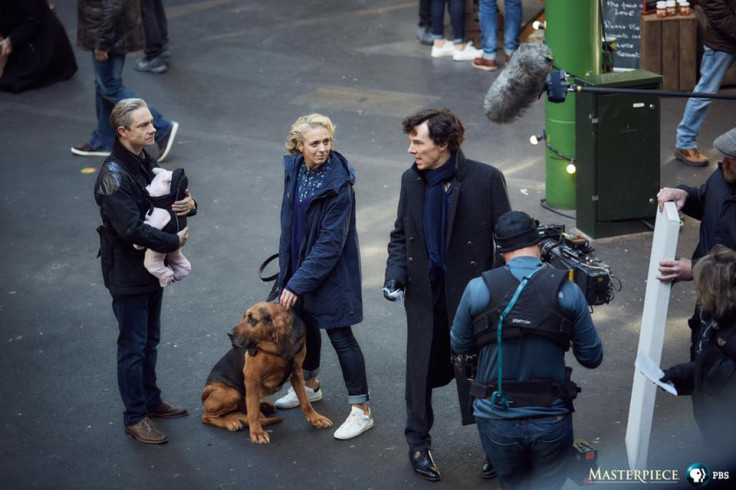 Season 4 of the hit show is scheduled to premiere in the UK and US on 1 January with the first episode titled The Six Thatchers. "Laughter, tears, shocks, surprises and extraordinary cases" can be expected from the new three-episode season, the network mentioned when production began in April.
The long-running villain, Moriarty, played by Andrew Scott, will make a comeback with a show that promises to be darker and more action packed than the previous seasons.
Cumberbatch had previously hinted that the upcoming season may just be the show's last. "It might be the end of an era," he said. It feels like the end of an era, to be honest. It goes to a place where it will be pretty hard to follow on immediately." He did however hint that he wouldn't mind revisiting the Arthur Conan Doyle mysteries again, so till then fingers crossed.
Check out some of the other photos released by PBS: