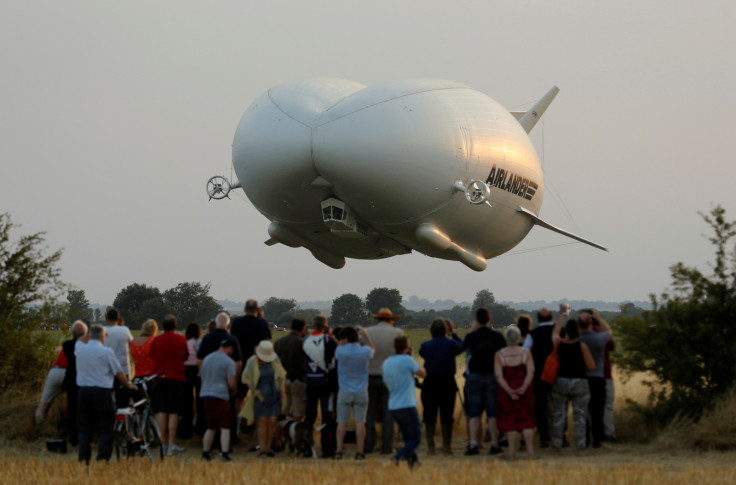 Crowds gathered to watch the world's largest aircraft take flight for the first time at Cardington airfield in Bedfordshire on Wednesday (17 August) evening. Aptly named for its bulbous posterior, the manufacturer of the 'Flying Bum' claims it can be used for surveillance, communications, humanitarian aid delivery and even passenger travel.
The helium-filled aircraft – more formally known as Airlander 10 – stands 302ft-long (92m) and 85ft-high (26m). It can reach speeds of 92mph and stay airborne for five days.
The giant aircraft was first developed to be used for long-endurance surveillance by the US government, but was hit by defence cutbacks. Hybrid Air Vehicles (HAV), the UK-based company which designed the ship, was paid nearly $100m (£76.5m) to build it, but bought the prototype back from the US government for a mere $300,000 in 2013, according to the Guardian.
"Think of a big helicopter, a really giant helicopter. This can do the same thing that a helicopter can do – that's to say, provide air transportation for people and goods without the need for a runway – but this thing can take more over longer distances, it's cheaper and it's greener," the company's chief executive officer, Stephen McGlennan, said.
"It's a great British innovation," he added. "It's a combination of an aircraft that has parts of normal fixed wing aircraft, it's got helicopter, it's got airship."
McGlennan said the Airlander 10 can "operate very happily" in 80 knots of wind and that it was "very simple" to manoeuvre.
Cheering spectators watched as the aircraft loomed up above, Sky News reported. The flight involved "a series of gentle turns at increasing speed", according to HAV.