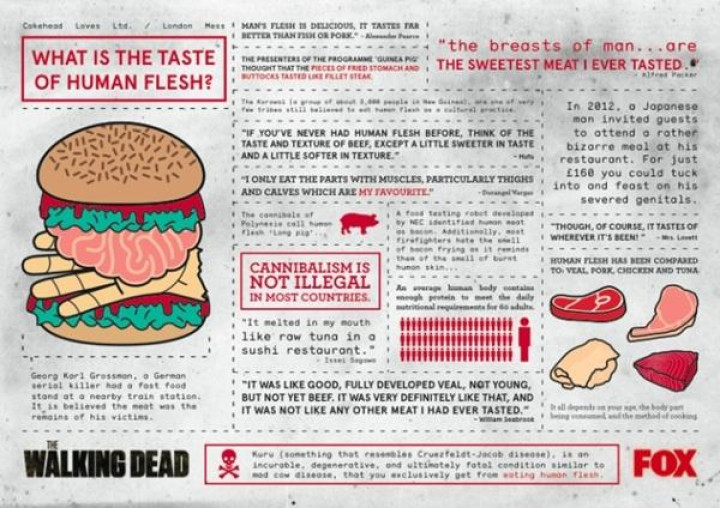 Using first-hand accounts of cannibalism, chef James Thomlinson has tried his hand at creating burgers that taste like human flesh.
Thomlinson, who runs a culinary company London Mess, used a mixture of veal, chicken livers, bone marrow and pork to create the human flesh-like burgers.
"With fans up and down the country hungry for Season 5 of The Walking Dead, this is certainly a unique tribute to the series. My food is inspired by flavor combinations and fresh produce, so it was a little odd to be inspired by the words of cannibals instead," said Thomlinson, as reported by the Horror Talk.
Inspiration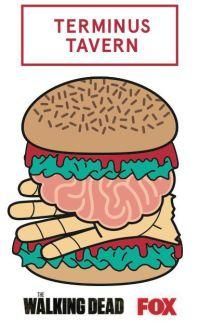 Thomlinson's inspiration for the burgers came from the season four finale of Fox TV series, The Walking Dead.
The finale showed the lead protagonist Rick Grimes, played by British actor Andrew Lincoln, discovering human remains which appeared to have been eaten by zombies.
Following the season finale, Thomlinson researched several accounts of cannibalism, including a 1920s author, journalist and cannibal, William Seabrook's testimonial after he convinced a medical student to let him taste flesh from a man who had died in an accident.
"It was like good, fully developed veal, not young, but not yet beef. It was very definitely like that, and it was not like any other meat I had ever tasted. It was so nearly like good, fully developed veal that I think no person with a palate of ordinary, normal sensitiveness could distinguish it from veal," says Seabrook in his book Jungle Ways.
Another inspiration came from Japanese cannibal Issei Sagawa who murdered and cannibalised a Dutch woman named Renée Hartevelt in Paris in 1981.
Sagawa described human meat to be similar to tuna fish.
Venue
The controversial cannibal burgers will be served at Thomlinson's secret pop-up restaurant, Terminus Tavernin, in east London next Tuesday afternoon to mark The Walking Dead's fifth series.
Chef Thomlinson will be serving up the burgers with food creative Miss Cakehead.
Macabre news friends - @LDNmessChef revealing his human flesh recipe shortly so you can make your own #terminustavern Walking Dead burgers

— Miss Cakehead (@Miss_Cakehead) September 23, 2014
The burgers will be served free from noon onwards till stocks last. Fans are being urged to follow Thomlinson on Twitter and use the hashtag #terminustavern to find out the secret location of the restaurant. The response has been mixed so far:
Would you eat a burger designed to taste like human flesh? How about if it was free? #WalkingDead http://t.co/eHrzbbyFFQ Yes ...yes i would

— Darth Virusus (@DarthVirusus) September 23, 2014
Dear whoever decided that it's a good idea to create a burger that tastes of human flesh, please stop!!!! — AllyN (@SonataOttb) September 22, 2014
Chef James Thomlinson's created a burger that taste like human flesh, mmm yummy

— Nin (@placiduagne) September 23, 2014