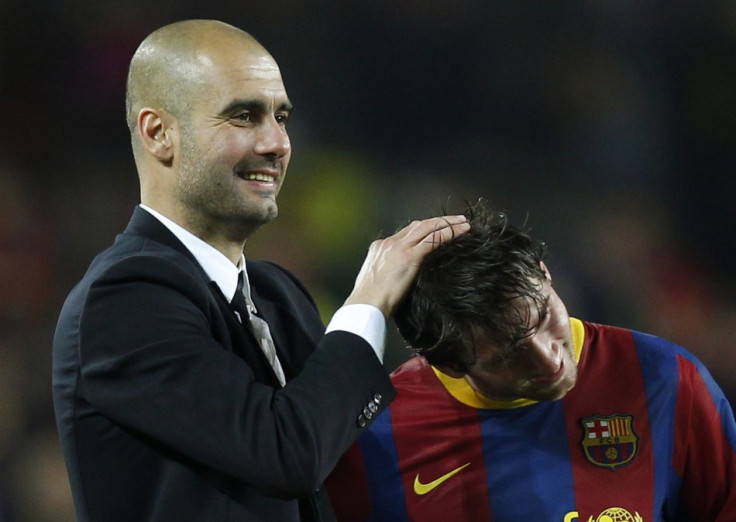 Barcelona boss Pep Guardiola refused to accept criticism of star striker Lionel Messi after the Catalans' Champions League semi-final elimination to Chelsea on Tuesday.
Messi failed to find the net in both legs against the Blues and missed a penalty at the Camp Nou during their 2-3 aggregate defeat; had the 24 year old converted his spot-kick, Barcelona would have been 3-1 up and that might have sealed their spot in the finals. Chelsea had already been reduced to 10 men before that spot kick.
The Argentine also failed to score or create in Barca's 1-2 home defeat to Real Madrid on Saturday, which effectively ended their bid for a fourth straight league title. However, Guardiola played down the criticism on Messi.
"We've gotten to where we are today thanks to this kid. More than ever I want to thank him for what he's done for us. My admiration for him knows no limits. He's daring, he's brave, he plays fantastic in different conditions," AFP quoted Guardiola as saying.
"We played in Pamplona and it [temperature] was 10 below zero and he wanted to play and win the game. He's an example for all of us. His competitiveness, how he pushes us all to be better. I've got no doubt that he's going to experience a few difficult hours now because he's a competitive guy but this is what is beautiful about football. Sometimes you smile and sometimes it's your turn to be sad," the Spaniard added.
Barcelona have suffered a very disappointing week but Guardiola said his team did everything they could possibly do to go to the finals and praised Chelsea for their triumph.
"There is always something to criticise because we didn't get to the final. We can only congratulate Chelsea for their defensive work. We did all we could but we failed. We lost out at key moments and paid for it. Now we must recover and think about next year," ESPN quoted the 41 year old as saying
Guardiola, whose contract with Barcelona runs out at the end of the season, stated he would discuss his future with the club administration in the coming days.
"I'll make a decision in the coming days. I'll talk with the president in the coming days and we'll decide what's the best for the club," he added.