Chelsea hope to right European failings this season by adding another European cup to their cabinet
Basel have only been beaten once in the Europa League this season
David Luiz starts in midfield for the Blues while Torres is alone up front
Basel 1-1 Chelsea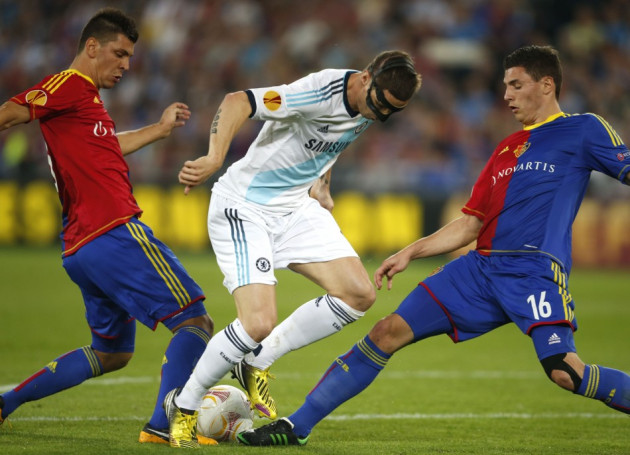 9:57pm: And that's a wrap folks! Chelsea make a serious challenge for Basel ahead of the second tie in the Europa League semi final. Thanks for tuning in.
9:55pm: GOAL!! In the last seconds as Ramires fell down to bring on a free kick, David Luiz converted into a goal for a dying-moments win for Chelsea.
9:53pm: Fernando Torres comes so close again!! With his head and legs trying to get the ball into the back of the net, it goes to the left. Basel immediately respond, this is end to end stuff.
9:52pm: As the board reads four minutes extra time, Chelsea dominate the play and look to go one up again.
9:47pm: PENALTY TO BASEL: Thanks to a challenge by Cesar Azpilicueta on Valentin Stocker, Fabian Schar converts to a goal as Petr Cech is left helpless to stop it, despite getting his hands on it. Score is now 1-1
9:46pm: Phillipp Degen limps off the pitch after the Basel defender looks to have fallen rather nastily on his ankle.
9:43pm: Lampard's skills tonight have been something to sign a contract over. The England international has continued to lead the Blues' attack, but fresh legs are clearly on Benitez's agenda with just over 10 minutes left.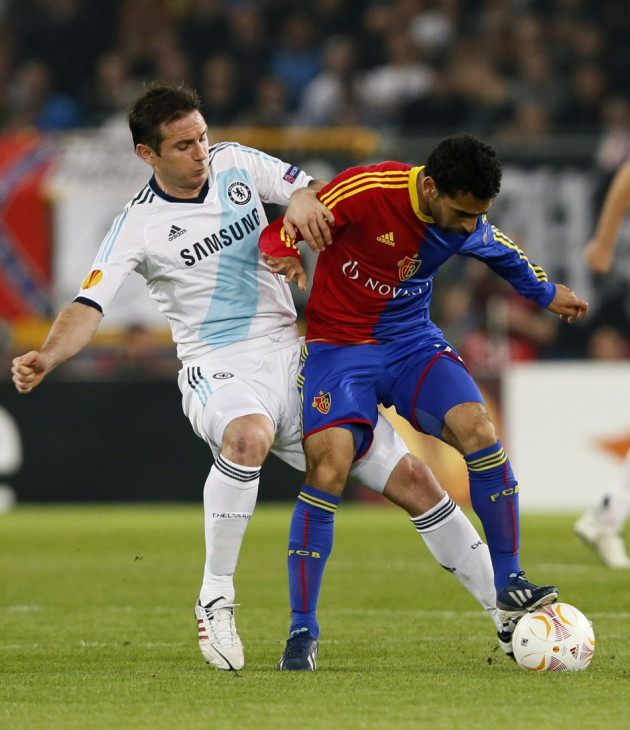 9:40pm: Chelsea make a substitution, with Frank Lampard coming off - who has been brilliant tonight - for Oscar.
9:38pm: Mohamad Salah comes close to scoring with noone but Cech between himself and the back of the net. But the defensive midfielder puts it straight into the keeper's hands.
9:32pm: Juan Mata replaces Eden Hazard for Chelsea. Meanwhile, Basel fans go absolutely mental after a yellow card is handed to Aleksandar Dragovic for a rough challenge on Fernando Torres. He'll also miss the second leg now.
9:30pm: Ashley Cole is handed a yellow card for time wasting during a throw in, and Basel throw a little tanty over not getting the ball. Cole will now miss the second leg of the tie.
9:28pm: Basel bringing on Jacques Zoua for Mohamed Elneny. The striker makes an immediate impact and Basel have a chance on goal, momantarily stopping the deafening singing of the crowd.
9:21pm: Torres is again demonstrating that he's lost his touch, handling Basel possession in their half as he tries to take control of the ball.
9:17pm: Victor Moses escaps a luck call over a handball, and Basel take control of possession.
9:16pm: Torres is on target, but hits the woodwork - so unlucky!
9:15pm: Valentin Stocker comes oh-so-close to the back of the net, hitting thewoodwork as he broke free from David Luiz. The stadium is getting louder.
9:08pm: The players are back on for the second half, and a blaring miss from Fabian Schar, who hits the cross bar though a timid Chelsea defence.
9:03pm: Just a moment to enjoy the Basel tifo that took place before kick off. It was quite the effort to get almost the whole stadium involved (except us boring media types).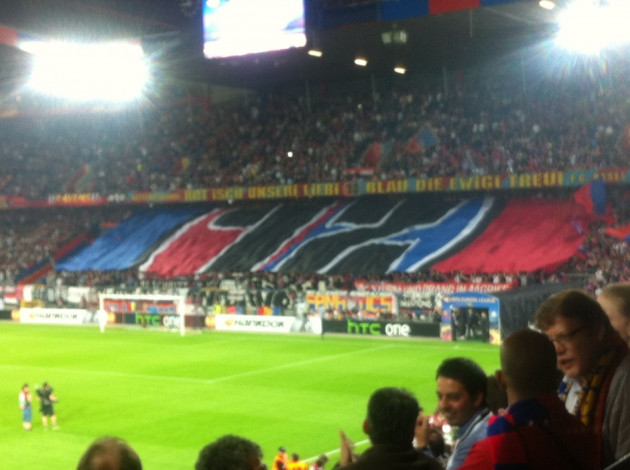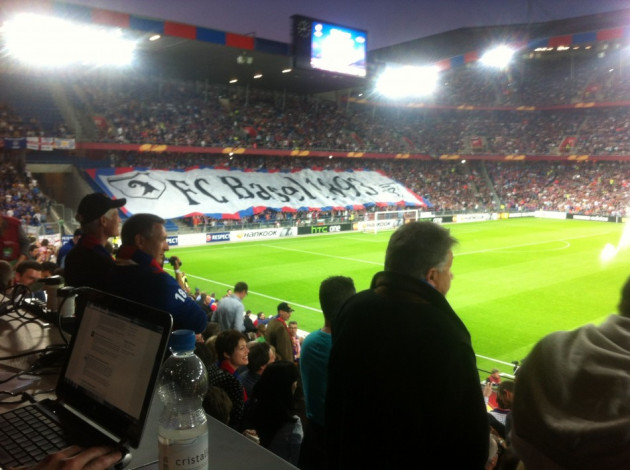 8:57pm: And that's half time at St Jakob Park - Chelsea have fought off Basel's attacks to look rather decent compared to their away form in the European tournament in the past. David Luiz has been dominating in the midfield, while Eden Hazard and Frank Lampard have both been integral to the squad's attacks. Can they continue this for 45 minutes?
8:51pm: Chelsea starting to show their attacking flare as the additional time for the first half rolls around. Two attempts on goal in as many minutes.
8:49pm: Here's photo evidence of that Moses goal - the attacker now has 3 goals in 4 of his last starts in the Europa League.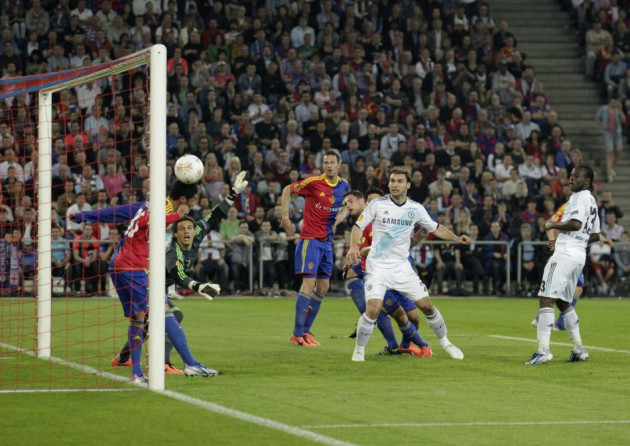 8:45pm: John Terry is down, but the defender picks himself back up again in time to defend some serious attacking from Basel. It's in the final third that the Swiss side are lacking a cutting edge, if they find that then Chelsea should be wary.
8:41pm: Chelsea fans chanting 'we are the Champions of Europe,' wonder if they'll keep that up if they win the final?
8:39pm: Basel's Serey Die very unhappy with a call made from the ref, and the free kick comes into the fray of Torres - but the striker is once more off the mark.
8:35pm: Eden Hazard has been once again influential in this Chelsea side - just now he forced a corner though it went straight into Sommer's hands. His link up with Lampard earlier led to the corner which created the goal.
8:27pm: Basel looking slightly nervous - they've shown they can fight back against Tottenham, can they do the same against Chelsea? Mohamed Elneny's blinder over the goal from outside the box would suggest not.
8:22pm: Spoke too soon! Cech has the pressure put on after a free kick from Basel's Fabian Schar goes straight towards his net, followed by an eventually unsuccessful corner.
8:21pm: That goal was certainly against the run of play for Chelsea - Basel have the ball in control as they work their way into the final third. But Petr Cech hasn't been pushed too hard as yet.
8:16pm: GOAL!!!! Cracking attempt from Lampard again in front of goal, which leads to a corner and the stalwart kicks it straight to Victor Moses' head, who scores. Ivanovic was in the mix there too, but it was Moses who the goal will count for.
8:13pm: Frank Lampard attempts to give Chelsea some momentum with a corner, but the ball goes straight into Basel keeper Yann Sommer's hands.
8:12pm: Ivanovic is working hard in defence after last week's incident left the Serbian with more than he could chew. Basel Murat Yakin said of the incident before the game: "I hope that Ivanovic is not coming to Basle with rabies! But we have the necessary bite to beat Chelsea. Still, I would prefer it if the semi-final does not become a game of Pacman."
8:09pm: Basel continue to dominate possession, with a corner coming dangerously close to Petr Cech's net within the first three minutes.
8:06pm: And we're off! Chelsea gain possession quickly and Torres calls for a foul, but the ref plays on. Basel quickly gain composure but it's a Chelsea free kick near the corner and straight to Cech.
7:58pm: Players are warming up in the tunnel, and Basel are having a few not-so-kind-looking words with Chelsea. Looks like the Swiss are rather pumped for their clash, hoping to wrap up a European/League double this season while Chelsea go for FA Cup glory as well as in the Europa League.
7:45pm: Players are warming up for the match, which kicks off at 8:05pm BST. Predictions for tonight? IBTimes UK is going for a 2-1 win to Basel, but if Torres can get firing it could be a different story.
7:40pm: The fans are still piling in but Basel's ultras have filled their section and are making their presence known in the stadium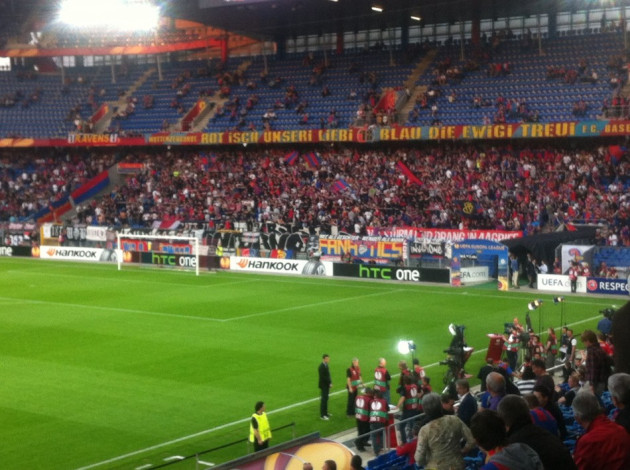 7:11pm: A couple of stats to get you all started - Basel have scored an average of two goals in every home game since the group stage of the Europa League began. Chelsea, meanwhile, have faced Basel only once, losing in the first round of the 2000-2001 UEFA Cup.
7:05pm: Team Lineups:
Chelsea: Čech, Ivanović, Cole, Luiz, Terry, Azpilicueta, Ramires, Lampard, Hazard, Torres, Moses SUBS: Turnbull, Cahill, Bertrand, Oscar, Mikel, Benayoun, Mata
Basel: Sommer, Joo Ho, Degen, Dragovic, Schär, Die, Stocker, Frei, Salah, Elneny, Streller SUBS: Vailati, Sauro, Steinhöfer, D.Degen, Díaz, Cabral, Zoua
7:00pm: Hello and welcome to the live blog for Chelsea's semi final match up with Basel in the 2013 Europa League semi final. Both teams are looking for a ticket to Amsterdam, the Blues are hoping to buck their poor away form while the Swiss giants, who currently lead the title race in their home country but only by three points, will look to continue their own blistering European home form.