Chelsea won their first Champions League trophy in the history of the club, after the final of Europe's premier competition came to a nail-biting end.
The Blues will now participate in next season's Champions League tournament, at the expense of Tottenham, who must now face the prospect of Europa League despite coming fourth in the Premier League table.
In the first half, Bayern dominated the play, having the most chances on goal, but Chelsea refused to give up and Petr Cech in particular forced the side to a 0-0 score at the break.
The second half saw the Blues pick up and push Bayern for a goal, with Didier Drogba putting pressure on the German giants on a number of occasions.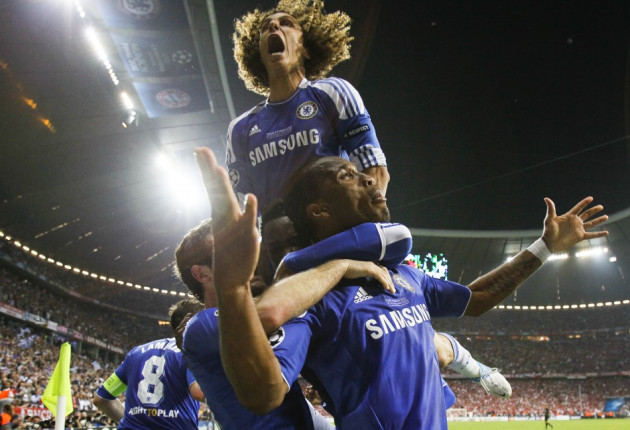 Franck Ribery came particularly close to taking the score to 1-0, but was ruled offside by the ref. But it was Thomas Muller who made it advantage Bayern in the 83rd minute, after Toni Kroos took a cross from the left wing to Mario Gomez and Muller headed the ball beyond Cech's skills.
But Chelsea, echoing Barcelona, refused to surrender; and within five minutes Drogba equalised after Juan Mata swung in a corner from the right. The striker powered a header into the roof of the net and the west London club were still in it.
With the scores at 1-1, extra time came into play, and Ribery won the penalty within three minutes after a clip from Drobga. Arjen Robben took the penalty, but Cech saved Drogba's blushes with a fantastic dive to his lower left. The ball almost escaped his grasp but he and Chelsea hung on to take the game to penalties.
Philipp Lahm scored the first penalty, and after Mata's miss, Mario Gomez netted with ease. The penalties continued with Bayern ahead, but Ivica Olic's miss took the scores to level.
Ashley Cole scored to keep the Blues in the fight, and Bastian Schweinsteiger's miss gave the English giants the golden advantage, and Drogba's penalty took Chelsea to victory.