Jamie Redknapp has lauded Eden Hazard's performance for Chelsea over the weekend, with the Sky Sports pundit retelling how Liverpool midfielder Joe Cole compared him to Lionel Messi.
The transfer speculation surrounding Hazard hit boiling point at the start of the summer, with the playmaker eventually choosing a move to the Blues as they look to defend their Champions League trophy and challenge the top four.
"I have spoken to Joe Cole [who played with Hazard at Lille last year] and he said he could be a right-footed Lionel Messi," he said.
"And like all good players he has got in-built wing mirrors; he knows where people are and he sees every picture, while he has a lovely weight of pass.
"He is rated very highly in France, but he would have come over here and wanted all his touches to come off and that's exactly what happened. He drove at the defenders and that was a nightmare for them, even though in the second he started to over-elaborate a bit."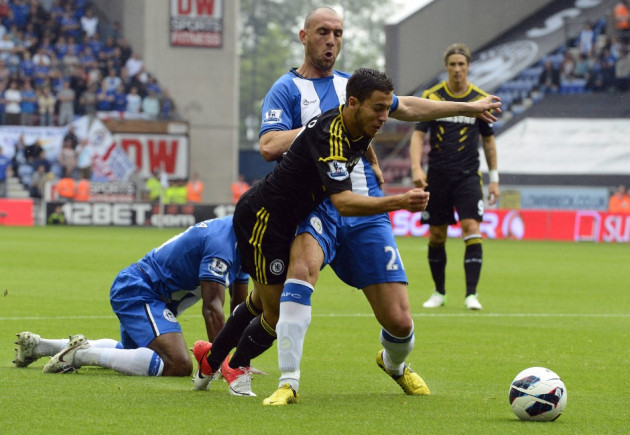 For Chelsea, the task of getting back into the top four will no doubt be a difficult one, with Liverpool, Tottenham, Arsenal and Newcastle all pushing hard while the Manchester clubs look to maintain their dominance for another season.
But Redknapp believes that after a very expensive summer, in which Oscar, Marko Marin and Hazard's brother all made moves to Stamford Bridge, the side will continue to improve.
"There were a lot of positives for Chelsea," he explained. "Fernando Torres looked sharp, Oscar had a nice cameo and there was a lot more short passing. They were impressive."
This Wednesday night Chelsea face Reading, and the side will be looking to keep their good start to the season on a roll as they prepare for a tough fixture against Newcastle at the weekend.
And with Torres continuing to improve alongside the signings, it looks as though the striker may yet come out of his bad form to produce a successful season out of the shadow of Didier Drogba.