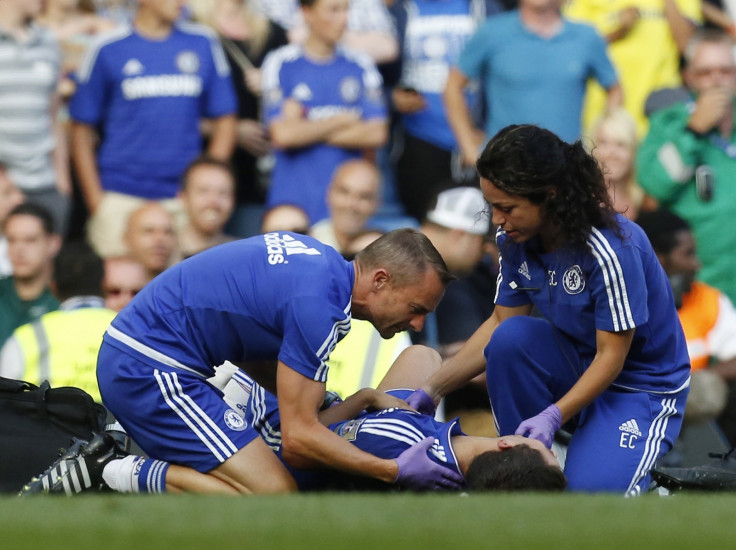 Chelsea's doctor Eva Carneiro has decided to leave the club barely six weeks after manager Jose Mourinho criticised her for treating Eden Hazard during a match with Swansea last month.
Mourinho, who said his medical staff were "impulsive and naive" for treating Hazard during the 2-2 draw with Swansea on 8 August, had her role downgraded following the incident. Carneiro, 42 lost her place on the bench and was no longer allowed to attend matches or training sessions, the BBC said.
Carneiro and the team's experienced first team physio Jon Fearn entered the field of play to treat felled Hazard when the team was temporarily down to nine men in the closing stages of the match.
The BBC said Chelsea had asked Carneiro to return to work but she has decided against it and is now considering her legal position. The Guardian said the doctor is preparing to sue the Premier League champions for constructive dismissal after her first team duties were downgraded at the request of Mourinho.
The paper said that Carneiro was due to return to work last Friday but has not been seen at the club's training ground. She is reported to have sought advice from a London law firm over the past few weeks, the paper added. It noted that she is likely to have a strong case given that both she and Fearn were twice waved on the pitch by referee Michael Oliver to treat Hazard during the match.
A fan tweeted: "Sad to hear that Dr Carneiro is to leave. Shameful treatment by manager and more so by club."
On 9 August, the day after the pitch incident, Carneiro said on her Facebook: "I would like to thank the general public for their overwhelming support. Really very much appreciated."
She was however silent on her Facebook on her reported departure. Despite this, there were comments on her page, with many wishing her luck.
"Good luck Eva. You deserved better than this. I hope your future employers treat you better and respect you more than Mourinho or Chelsea ever did," wrote Elizabeth Galligan on Carneiro's Facebook.
Milan Horinek said that he and most of his friends who are Chelsea fans were sorry over what had happened to her. "I hope you will find a good job and things will go well for you. I hope you will take legal advice and you will be well compensated at the end. Please do not condemn Chelsea supporters as most of them are on your side."
Another person, Kyle Wainwright wrote: "I am embarrassed to be a fan of Chelsea FC right now. I hope you get everything you deserve and Mourinho will get what's coming to him."
FA to see if abusive or sexist language used against Carneiro
The Football Association is also looking into a complaint that Mourinho had used abusive or sexist language towards her. Chelsea, when contacted said that they do not comment on internal staffing members, BBC said.
The issue of team doctors was discussed by the Fifa medical committee and FA chief executive Martin Glenn said earlier this month: "We work to a Fifa mandate on medical support. The duty of the doctor is to the player, not the employer. It is an issue for Chelsea to sort out but I don't believe they are playing a dangerous game."
FA's Inclusion Advisory Board chair, Heather Rabbatts expressed "sadness and anger" at Carneiro's departure, saying: "Her departure raises a serious question on how players are safeguarded if their medical support is compromised.
"The footage of the abuse she has endured in silence from the stands during her career is something we should all be ashamed of. I hope that Eva's own situation can be resolved quickly and positively and that she will be able to continue to work in a senior position within the game."
The Women in Football group said it was "bitterly disappointed" over the news and said: "We believe it is appalling that her professionalism and understanding of football was subsequently called into question by manager Jose Mourinho and it threatened to undermine her professional reputation."
The group's spokesperson said: "We also believe that Dr Carneiro's treatment and ultimate departure from Chelsea FC sends out a worrying and alienating message to the already small numbers of female medical staff working in the national game."