When Chelsea signed Diego Costa, Chelsea supporters knew what they were getting. A striker who would score goals. The last piece in the jigsaw for a Chelsea side that had everything but a striker who could score 20 plus goals in a season. A proper striker.
We also knew that he came with attitude. His skills were honed on the rough streets of Brazil's favelas, not the smooth grass of Cobham's lush training pitches. He is first, last and always a 'street fighting man.' Nothing epitomised this more than Costa revealing that when he arrived at Stamford Bridge he tasked Oscar to find the three toughest players in the Chelsea team. Oscar returned with John Terry, Gary Cahill and Brana Ivanovic.
Costa approached the three hardmen, and uttered the now immortal words "I go into battle – you come with me". We lapped it up and now a flag adorns Stamford Bridge at every game bearing that legend.
This is Diego Costa - a ruthless goal scorer and a born fighter. On his time playing in Brazil he was quoted as saying: "On the pitch I fought with everyone, I couldn't control myself. I insulted everyone, I had no respect for the opposition, I thought I had to kill them". What is not to love! Every supporter loves a player who can bang the ball in the net and will give 100 % commitment. Die for the cause, metaphorically speaking.
But there is an inevitable downside with a player who carries the fight just a little too far.
In Spain, playing for Albacete, Real Valladolid and Atletico Madrid, Costa picked up 67 yellow cards and five red cards in just six full seasons. In the 2012/13 season, he picked up 12 yellow cards in just 24 starts, and last season seven in 34. That is some disciplinary record, one to put even Patrick Viera to shame. More pertinently that equates to an average of three to four games missed through suspension per season (presuming the red cards were straight reds).
It is also a huge number of bookings for a striker, a player who, by and large, is not tasked with putting in risky challenges that may incur the wrath of the referee. However, Costa and this Chelsea side are different.
At Chelsea every member of the team is encouraged to put in a challenge and work for the team. Costa may lead the line but he is also Chelsea's first line of defence, often getting a challenge in deep in the opposition's half. It is this commitment and intensity that has elevated Chelsea from also rans last season to champions in waiting this season.
But with Costa, this is not just a tactical ploy. He would do it anyway – it's part of his DNA. But there is a concern that his temperament may lead to an unacceptable number of suspensions in a season. Surely Chelsea could ill afford to lose their main goal scorer for four games a year, or even more?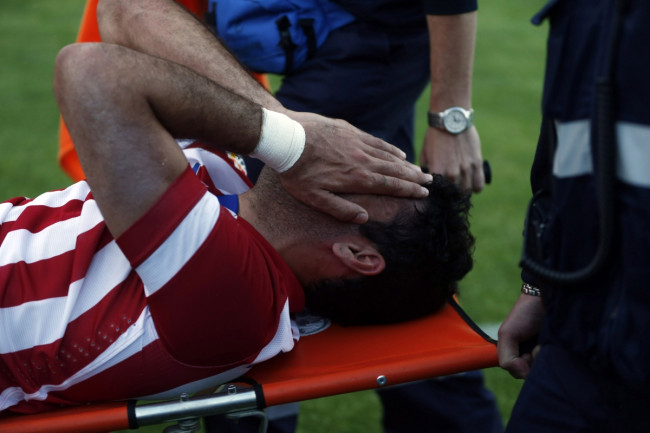 On Saturday, Chelsea faced a very determined and committed Sunderland side that not only played out of their skin, but defended with their lives. Costa (seen as the main threat) was targeted all match by John O'Shea and Wes Brown in particular. They knew they could ill afford to be bullied by Costa so got into him good and early.
In fact Sunderland used the dark and cynical arts of defending against Chelsea as successfully as Chelsea have often done to opponents in the past. They knew Costa was likely to react - and he didn't let them down.
There were two incidents where Costa was lucky not to have been sent off. First O'Shea scythed him down with a rather agricultural challenge (I'm being kind). Understandably, Costa lashed out by kicking O'Shea during the follow through. Many referees would have seen this as retaliation and given him his marching orders, even though many commentators missed the fact that O'Shea had put the boot in twice before Costa retaliated. Why else did O'Shea leave the scene of the crime so quickly?
The second incident was more difficult to call. Challenging Wes Brown for a header, Costa caught Brown squarely in the face with his trailing arm. It was difficult to say whether or not it was deliberate, and it certainly wasn't a well-aimed elbow, but on another day, with another referee, Costa would have received a red card rather than receiving his 5<sup>th yellow card of the season.
Kevin Friend, the referee, has to be commended for showing some tolerance and understanding of the type of game that it was – full blooded with neither side giving an inch. But either way, Costa was clearly frustrated and was lucky not to be sent off for allowing his temperament to get the better of him.
Of course Costa's yellow card means that he will now miss Chelsea's game against Spurs on Wednesday night. This is a great shame for Chelsea supporters, as this is one of the biggest games of our season against a team we absolutely loathe and always enjoy beating. It would have been lovely to see Costa terrorise the Spurs defence. It would also have suited him down to the ground, it being a game where there is most definitely no love lost.
Hopefully Costa's absence on Wednesday will not prove costly. As Mourinho says, at a time of the season when games are coming thicker than brandy butter, it might do the big man good to have a rest. But ultimately, we cannot afford to have Costa missing too many games through suspension. He's far too important to the side for that.
But should we temper his attitude in order to prevent this?
Absolutely not!
Costa's attitude and belligerence is exactly what makes him the player he his. If you take the fight and commitment out of Costa you will have half the player and none of us want to see that.
Let's hope Chelsea continue to enjoy the leniency we had with referees like Kevin Friend on Saturday, and as for Diego Costa – keep on fighting son.
David 'Stamford Chidge' Chidgey presents the award winning Chelsea FanCast TV show and podcast which can be seen every Monday at 19.00 on chelseafancast.com or You Tube or heard at mixlr.com/chelsea-fancast/ or downloaded from ITunes. Follow us on twitter @StamfordChidge and @ChelseaFanCast