According to the media and opposition fans (or Man Utd and Arsenal fans in particular), if and when Chelsea win the Premier League this season it will be devalued. It will be false, a travesty, a massive deception and fraud, and we will not be worthy winners.
Apparently Chelsea are simply not entertaining enough. We don't play sexy, helter skelter football. We are too negative, even boring, and way too cynical. Even more hilarious are the accusations flung at us after the 1-0 victory over an 'in-form' Man United this weekend that they were the better side because they dominated possession with 70% to 30% in their favour. Righto.
All I can say to that is 'diddums'. Here's a stat for you. Chelsea scored one goal and Utd none and frankly that's the only stat that counts. In the process, Chelsea extended their lead at the top of the table to 10 points over their nearest rival, and effectively ended another rival's title challenge.
To paraphrase and amend the wonderful commentary from the great Barry Davies, "where was the entertainment? Frankly who cares?" Certainly not Chelsea supporters.
'Bitter, envious, jealousy spouted by petulant fans'
It seems that in the eyes of the media and other fans, it is more important to entertain than to win. What absolute nonsense. I would argue that this is nothing but bitter, envious, jealousy spouted by petulant fans who are merely covering up their own teams' shortcomings and inadequacy. What they are really saying is "it's not fair, Chelsea keep winning".
It is the last resort of losers. I don't recall hearing fans walking out of a game their team had just lost saying "it doesn't matter that we didn't win because we played really entertaining football". Laughable, isn't it.

'Fans might carp that Mourinho sacrificed the ball, and was overly cautious against an inferior side. But I'd urge them to look at Arsenal, and their performance in recent years, before making that particular criticism.'
Read Jason Cundy's defence of Jose Mourinho's tactics by clicking here.
Even more laughable is the fact that it isn't really true. Arguably Chelsea have been very entertaining this year – perhaps more entertaining than the 2005/06 incarnation. The 5-0 demolitions of Swansea and Schalke (both away from home) provided some of the most entertaining football I have ever seen from a Chelsea side.
We have been top of the league since 23 August 23, and if we go on to win it we will break Man United's record of the longest time spent at the top of the league in a season. Personally I find that very entertaining.
Currently Chelsea are second only to Man City in goals scored in the league with 65 and in all competitions 15 Chelsea players have scored 90 goals between them, 18 of them being scored by defenders. That sounds more like total football to me.
Over and above all of that, we have Eden Hazard. If Hazard doesn't win the PFA Player of the Year award then surely there has to be a steward's enquiry. He has improved from his excellent season last year, and as Mourinho claims, is not far off the lofty heights of Ronaldo and Messi. Chelsea are truly blessed to have him in the side, and I for one feel extremely privileged to have watched him dazzle with quick feet and mazy runs, leave defenders on their behinds, and score goals of sublime quality like the one that sunk the good ship Man United on Saturday.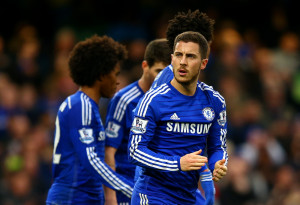 But entertaining football alone does not necessarily win you trophies, and it is a team game, not one of mercurial, talented individuals. One of the greatest attributes of this Chelsea side is that they are a team, and play like one. Everything they do is always for the greater good of the collective, and that has been instilled in them by perhaps the most entertaining and charismatic personality in the dressing room – Jose Mourinho.
Chelsea will win the Premier League this season because they have been the best team, and nothing exemplified that more than the victory over United on Saturday. The nonsense about the possession stats ignores the fact that Chelsea was perfectly happy to reel United in with a football equivalent of Mohammed Ali's 'rope-a-dope'.
They allowed United possession and challenged them to break them down, knowing that they possessed little attacking threat with a misfiring Falcao, a deeper lying Rooney, and the imperious Kurt Zouma snuffing out the aerial threat of Fellaini. And when United were forced in to a mistake, Chelsea pounced like a lion hiding in the bushes, waiting for the right opportunity to sink its teeth into its prey.
It always amazes me that great defending is never appreciated in this country, as though it's not even part of the game. If Arsenal had had a decent defence and goalkeeper, they might have won more than one trophy in the last nine years. The strength of this Chelsea side is built on solid defensive foundations, and frankly both Chelsea and their defensive and tactical acumen should be applauded.

STAT: United have won just two league games at Stamford Bridge since 1998 - when Phil Neville scored the winner.
It's a great old-fashioned tactic. We will not be beaten, you shall not pass, but we will always be able to nick a goal and beat you. Liverpool and Nottingham Forest used this style of football to devastating effect in the 1970's and George Graham's side invented the '1-0 to the Arsenal' style of football in the 1990s. Funnily enough, all of those sides won trophies including League titles. I wonder what Arsenal fans would give for a few gritty 1-0s and a few more trophies in the cabinet over the last 10 years?
The bottom line is that every single one of the Chelsea supporters inside Stamford Bridge on Saturday cared not one jot about being entertained, so long as we won the game, secured all three points and edged ever closer to winning the Premier League. In years to come few supporters will remember how the league was won, but everyone will remember that we won it.
The media and opposition fans can stick to their bitter moaning and we'll celebrate the wins and the trophies.
David 'Stamford Chidge' Chidgey presents the award winning Chelsea FanCast radio show and podcast which can be heard every Monday at 19.00 on mixlr.com/chelsea-fancast/or downloaded from ITunes, Soundcloud and chelseafancast.com. Follow us on twitter @StamfordChidge and @ChelseaFanCast