After Chelsea's dogged, gritty but ultimately very satisfying victory over the 'embarrassing neighbours' QPR on Sunday, we are now just 11 points away from securing the Premier League title.
Chelsea supporters are not counting their chickens yet; we know only too well that there is many a slip between cup and lip. Just ask Steven Gerrard.
But any ill-judged premature celebrations aside, there is a feeling that it is ours to lose and thoughts are naturally turning to which of the seven matches left will see us win the league for the first time since 2010.
It is no surprise that the scramble for tickets for the remaining matches is akin to the search for the golden ticket in Charlie and the Chocolate Factory. It is a surprise that the club have deemed it unnecessary to make ticket sales subject to the loyalty points system. This is particularly pertinent for the away matches, where Chelsea have regularly sold out their allocation within minutes this season.
There is a very good chance that some of the most loyal and hardy supporters, who have spent hundreds, if not thousands of pounds following the club home and away, over land and sea, often at very supporter-unfriendly kick off times, may well miss out on the match that seals the title.
For a matchgoing supporter there can be nothing worse than missing out on your club's moment of glory. It's all about being there. It is your reward for all the aggravation encountered following the club all over England and Europe. These are the moments in years to come when you gather round the pub with younger supporters recounting the tales of how Chelsea won the title, finishing with the line "and yes, I was there" (with apologies for sounding like a London version of Max Boyce).
Luckily I have been there for all but two of Chelsea's title winning matches. I wasn't alive in 1955 so that probably doesn't count. I missed the Bolton match in 2005, arguably the most important and significant, and have forever regretted not begging, borrowing or stealing a ticket to be there. Instead I watched it in a gloomy pub in Pimlico, on my own, wracked with nerves. The only upside from not being at Bolton was the fact that I was able to meet up with about 3,000 Chelsea supporters in Fulham Road after the game and celebrated long into the night. I seem to recall dancing drunkenly with former Sex Pistol, Paul Cook, in one of the Pubs near Stamford Bridge. Happy days.
But in which match will Chelsea secure the title? It is not easy to work out.
We discussed it on this week's Chelsea FanCast and recognised that it is complicated by the fact that realistically, both Arsenal and Manchester United are both just about in the title race, and further compounded by the fact that they will play each other on 18 May – the penultimate league game.
82 points will do it
Our predictive complexity is defined by Chelsea's next two matches against Man United next weekend, and Arsenal the following weekend. There is a strong case to say that if Chelsea win those two matches then they can win the title by beating Leicester away. Even if Arsenal beat United, neither will be able to accrue more than 81 points from their remaining matches. If Chelsea beat Leicester having beaten (and taken points away from) United and Arsenal they will have 82 points and it will be game over.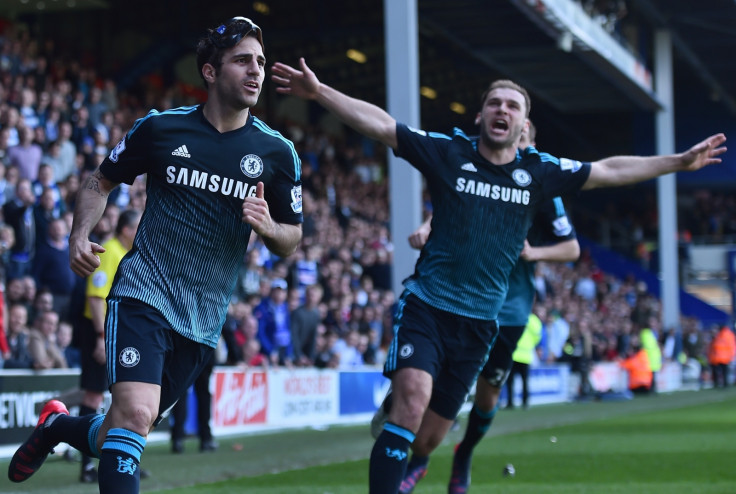 Much to my surprise my fellow podcasters all seemed to think that this is the most likely scenario. I am a little more cautious, so have factored in the possibility of dropping points against United and Arsenal.
If we draw against both United and Arsenal - not inconceivable considering Mourinho's conservative approach against Manchester City earlier in the season - then the likelihood is that the title-deciding game will be against Liverpool at home on 10 May.
For many Chelsea supporters this might be the dream scenario. Of all our title rivals since the arrival of Roman Abramovich, it seems that Liverpool supporters are the most bitter about Chelsea's success. I suspect that they feel that Chelsea's success has come at the expense of their own in the league. Gone are the days when Chelsea supporters provided Liverpool supporters with a pub to meet in before the games. But of course in those days, Chelsea were no threat and Liverpool could afford the bonhomie. How times have changed.
Of course many of us were at Stamford Bridge in 1986 when Liverpool player-manager Kenny Dalglish volleyed past Chelsea keeper Tony Godden to secure the club's 16<sup>th League title with a 1-0 win. Having played a large part in spoiling Liverpool's title celebrations with a 2-0 win last season, it would be very welcome to rub it in by winning the title against them.
The reality is that we don't actually have to win that match as a draw would be enough, providing our goal difference remains superior to Arsenal's.
Of course the one thing that I remain acutely aware of is the possibility of schadenfreude making an appearance. You can bet your house on the fact that Liverpool supporters will relish the prospect of doing to Chelsea what Chelsea did to them last season. A very good reason not to welcome the Chelsea player's coach with mass flag-waving prior to kick-off on 10 May, and decree that all printing of T-shirts bearing the legend "Chelsea FC Premier League Champions 2014/15" should be banned from the Stamford Bridge area until well after the match.
Most of the permutations about when Chelsea might win the title are built on the assumption that the key games are against Man United and Arsenal, and that the other games should be winnable. This, of course, is a gross underestimation of the likes of Leicester, Palace, West Brom and Sunderland, all of whom will do anything they can to spoil the party. This is what makes the Premier League the best league in the world – every match is competitive and there are no givens in terms of results.
All the more reason for Chelsea to go all out and beat United and Arsenal over the next two weekends, and complete the job against Leicester on 29 April. More to the point, I have a ticket for Leicester away, and if that is the match that Chelsea wins the title, then I will always be able to say that "I was there".
David 'Stamford Chidge' Chidgey presents the award winning Chelsea FanCast radio show and podcast which can be heard every Monday at 19.00 on mixlr.com/chelsea-fancast/or downloaded from ITunes, Soundcloud and chelseafancast.com. Follow us on twitter @StamfordChidge and @ChelseaFanCast