Sunday at Stamford Bridge was party time, and thanks to a 3-1 win over Sunderland the celebrations and lifting of the Premier League trophy went off in style. But they were tinged with some sadness as we were clearly bidding farewell to several Chelsea Legends.
Neil Young's seminal 1979 tune – "Hey Hey My My" sprang to mind as I watched the celebrations and farewells. It could have been written for the likes of Cech - "And once you're gone, you can't come back, when you're out of the blue and into the black" and Drogba - "It's better to burn out 'cause rust never sleeps, the king is gone but he's not forgotten".
The departure of Drogba, and likely departure of Cech, means all but one of Chelsea's successful spine of the last 10 years have now left the club. There is no doubt that Cech, Terry, Lampard and Drogba have formed the backbone of the most successful period ever for the club.
They should put a statue of the four of them outside the ground when they all finally hang up their boots; such has been their importance to the club. We probably don't realise it now, but I would wager that this quartet will go down as the most important players in the club's history.
It was particularly pertinent on this celebratory day that Drogba's farewell speech gave credit to 'Super Frankie Lampard' and his time at the club. Sadly for Frank he was never afforded the chance for such a valedictory farewell – something I suspect the fans, the club and Frank himself deeply regret. Perhaps a testimonial match at some time in the future would be appropriate? Drogba got to 'burn out' brightly with another Premier League winner's medal, while sadly Lampard simply 'faded away.'
As for Petr Cech, he is undoubtedly aware that 'rust never sleeps' and whilst I hate the thought of him playing for another club let alone Premier League rival, I can understand his desire to play more regularly for whatever remains of his career.
It has been an odd season watching the dilemma Mourinho faced with regard to Cech and Courtois. All logic tells you that he had to back the youth and potential of a keeper who could arguably dazzle the Premier League and the world for the next 10 years over one who is approaching the twilight of his career. However, lingering doubts have remained for many supporters this season, as to whether Cech or Courtois is the best keeper right now. Many of them would tell you that Cech is still number one. His stats this season have been phenomenal, and whenever he has played he has brought a calming authority and presence to proceedings.
We will all be sad to see him go and he will be sorely missed. Quite frankly he has been outstanding as our best-ever keeper, a model professional, drummer, tweeter and all round gentleman. His performance in the Allianz Arena, where his penalty saves all but handed the Champions League trophy to Chelsea, will never be forgotten.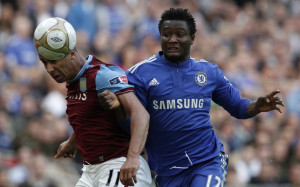 Talking of the Champions League final of 2012, one of the heroes of that night, and arguably the man of the match, may also have played his last game for the club, but like his career at Chelsea any such farewell was much underrated.
John Obi Mikel has always been marmite at Chelsea, but in truth he has always done a good job for the team. If this was his last game, then I for one will be sorry to see him go. As his song says "he's not quite Makalele", but frankly who is.
One man is clearly aware that 'rust never sleeps' and that man is Jose Mourinho. Now this season has been put to bed, he will waste no time in bolstering the squad to attempt to retain the Premier League title next season, and one hopes challenge for the Champion's League.
The best manager, bar none
It has been evident that the squad has lacked depth this year, and various holes need to be plugged, as well as an all-round strengthening of the squad. Presumably Chelsea will get their business done good and early as this was in many ways the secret to their success this season, with their key signings of Costa and Fabregas making the difference between finishing third and winning the title.
But the main difference of course has been Jose Mourinho, the best manager in the world – bar none.
This side already bears the hallmark of a Mourinho title-winning team, and this season he has thoroughly stamped his personality on it. He has improved a player in Eden Hazard who was already playing at a high level – something which Jose has a knack of doing – making the best even better. Arguably he has done the same with John Terry who has had one of his best seasons at the club – no mean feat. Jose's powers of man management have clearly not diminished in his time away from the club.
Jose has played a blinder all season – manipulating the press and the FA and helping to create a siege mentality when we needed it most; intimidating, belittling and winding up rivals such as Wenger and 'Pelligrino' to the extent that their challenge melted months ago.

'If you can't applaud a genuinely great footballer as he leaves the stage for the last time when you have enjoyed spending many occasions humiliating him and have just won the title, then when can you?'
Read Chidge's take on Steven Gerrard here.

Even his less than complimentary comments about Chelsea's home support had a positive effect rather than backfiring on him. Who else could get away with that? Of course he was smart enough to give fulsome praise and thanks to the supporters who most deserve it: Chelsea's away following.
But beyond all of this, Jose has repeated what he did when he first arrived at Stamford Bridge. He has brought a winning mentality to the team. Remember it had been five years since Chelsea last won the Premier League – arguably one of the hardest leagues to win, but still, with the resources and players at Chelsea's disposal that is underperforming.
His powers of management on the pitch, at the training ground and with the media have been superb. He recognised when Chelsea needed to dig in, get results by winning ugly and get them over the line. In years to come no one will remember how Chelsea won the title, they will only remember that the 2015 Premier League champions were Chelsea Football Club. And frankly, I don't think we would have won it without him.
As Neil Young sang in Hey Hey My My, "There's more to the picture than meets the eye". This is certainly true of Jose Mourinho. He really is very special and we are lucky to have him.
David 'Stamford Chidge' Chidgey presents the award winning Chelsea FanCast radio show and podcast which can be heard every Monday at 19.00 on mixlr.com/chelsea-fancast/or downloaded from ITunes, Soundcloud and chelseafancast.com. Follow us on twitter @StamfordChidge and @ChelseaFanCast