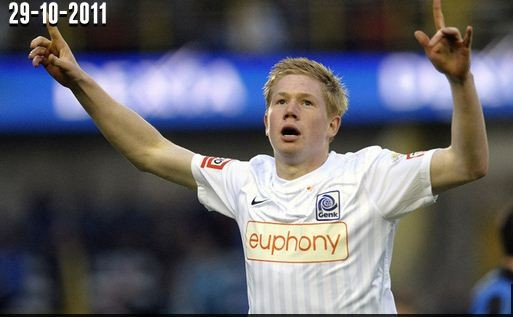 Kevin De Bruyne has confirmed that Chelsea are interested in signing him in the January transfer window, and the young winger is happy to make the move to Stamford Bridge despite being warned about receiving limited game time.
Andre Villas-Boas was strongly linked to the Belgium international in the summer transfer window, but a deal reportedly fell through with Racing Genk for the 20 year old to make the move to England.
And while De Bruyne has continued to insist that he would love a move to Chelsea, the starlet has now revealed that he is in talks over a deal with the club, with a loan spell said to be part of the agreement.
"Chelsea are still interested in signing me and have a plan ready for me," he told Sporza.
"It would be perfect if they'd sent me out on loan to another team first. Something like Thibaut Courtois at Atletico Madrid. He has made the right choice.
"Staying at Genk for another season is not an option for me. Chelsea were very serious last summer, but you never know what team shows an interest this time.
"Maybe Genk's asking price is too high. They want to receive as much as they got for Courtois. That's a lot of money for a player from the Belgium league."
Chelsea are on the lookout for young talent as Villas-Boas goes about rebuilding an aging squad, and €9 million-rated De Bruyne would fit well into the younger set up that includes the likes of Daniel Sturridge and Romelu Lukaku.
And while De Bruyne is aware that he will struggle for game time at Chelsea, unlike at Genk, the starlet believes being a part of one of the world's top teams will make him a far better player than staying in Belgium ever could.
"Lukaku's situation at Chelsea doesn't scare me," he said. "He's training with some of the best players in the world. Even if he doesn't succeed at Chelsea, he'll have become a better player.
"You can join pretty much any team once you've played at Chelsea."
Chelsea are set for a very busy transfer window, with the club already admitting they are close to a deal with Gary Cahill just a few days in. Strikers are also said to be high on Villas-Boas' agenda, as well as more youngsters to bring even more fresh talent into the squad.