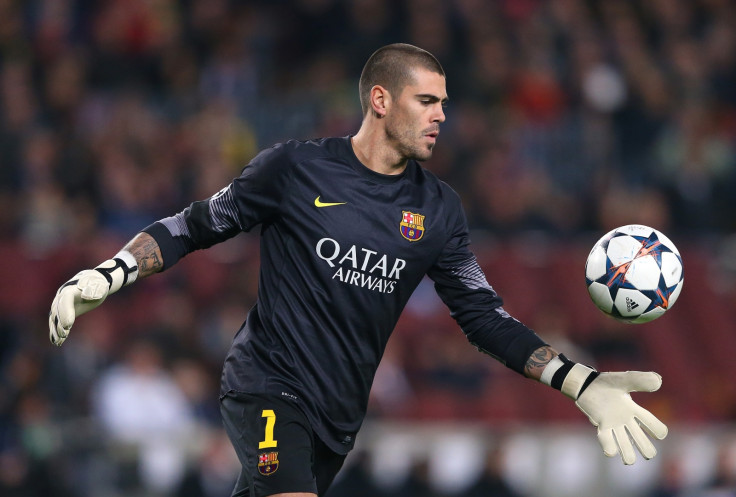 Chelsea goalkeeper Thibaut Courtois claims Manchester United signing Victor Valdes may struggle to adapt in the Premier League due to his height.
The former Barcelona legend is only 1.83m tall while Courtois, for instance, is 1.99m and United number one 'keeper David De Gea is around 1.89m.
Courtois suggests even though Valdes is a sensational goalkeeper, he could find it tough in the Premier League because there are more aerial battles for 'keepers to deal with than in La Liga.
During an interview with Spanish radio station Onda Cero, the Chelsea number one was asked how Real Madrid star Iker Casillas would adapt to the English game due to his height of 1.82m, before Courtois extended the issue to the new United 'keeper.
He said: "It is a difficult question. Casillas has grown in Spain and switching to another league is not an easy job. For example, the Chelsea's goalkeeping coach doesn't want any keeper at Stamford Bridge shorter than 1.95m. That tells you a lot. Here in the set-pieces, in corners and fouls thy hit you a lot.
"But it depends. Maybe Victor Valdes and Casillas come here and play very well. When I was in La Liga, people used to told me the same, that if I came to the Premier League I would have problems in the aerial battles. But to be honest, I am now here and I feel great in the set-pieces situations."
United manager Louis van Gaal has claimed Valdes has joined the club as "the number two goalkeeper", almost confirming De Gea will remain unmovable under the sticks.
Asked about whether Valdes's arrival could lead to De Gea moving to Real Madrid, Courtois said: "I think it is very difficult for De Gea to leave United to join Real Madrid. He is an icon at Old Trafford and he used to play for Atletico Madrid [Los Blancos' enemy]. But of course he has the talent to play for Real Madrid."
Meanwhile Cesc Fabregas, who played alongside Valdes at Barcelona, has compared the new United goalkeeping situation with the one at Chelsea between Courtois and Petr Cech.
He said: "I wish Valdes the best. We have the same situation at Chelsea. Thibaut is the number one but Cech is ready to cover him anytime. For the manager and for the team, it's a very good guarantee to have two great keepers."